A simple and delicious Pulao with King Prawns. Ideal for a weekend lunch or dinner.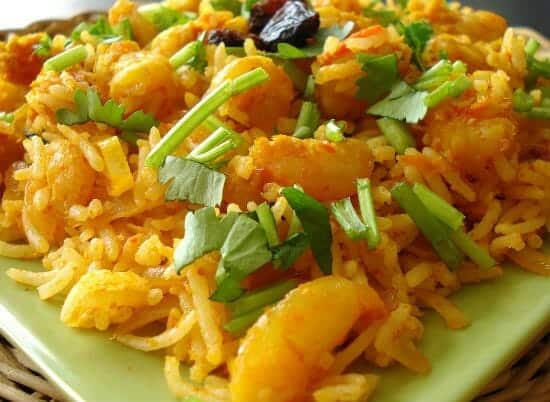 Ingredients:
King Prawns – 500 gms, raw, shelled, deveined
Rice – 750 gms
Onions – 3, big, finely chopped
Tomatoes – 4, big, chopped
Ginger Garlic Paste – 1 tblsp
Cloves – 3
Cinnamon – 1 inch stick
Red Chilli Powder – 1 tsp
Milk – 1/4 cup, warm
Saffron Strands – a large pinch
Green Chillies – 5 to 6, slit
Garam Masala Powder – 1 tsp
Salt as per taste
Ghee (or Oil) – 1/4 cup
Coriander Leaves – few, chopped, to garnish
Method:
1. Heat ghee in a pan over medium flame.
2. Saute the onions for two minutes.
3. Add the ginger garlic paste, cinnamon and stir well.
4. Stir-fry for two to three minutes.
5. Add the tomatoes and stir again.
6. After 2 minutes, add red chilli powder and mix well.
7. Mix the saffron strands with the milk and stir well.
8. Add the rice to the pan and cook for 3 to 5 minutes.
9. Pour 1.25 litres of warm (or hot) water and reduce flame.
10. Cover the pan with a lid and cook for 10 minutes or until the rice is half-cooked.
11. Add the prawns, green chillies and garam masala powder.
12. Sprinkle a bit of salt and stir well.
13. Cover and cook for 5 to 8 minutes or until the prawns turn pink and rice is cooked.
14. Add the saffron milk and gently mix.
15. Remove from flame and garnish with coriander leaves.
16. Serve with raita of choice.