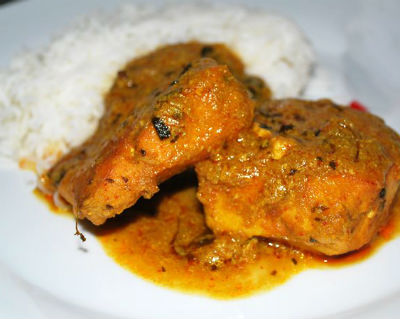 Ingredients:
Fish – 500 gms, any freshwater fish, skinned, cut into bite-sized fillets, washed, drained
Oil – 2 tblsp
Spinach Leaves – 1 to 1 1/2 cups, chopped
Fenugreek Leaves – 1 cup, chopped
Tomatoes – 500 gms, pureed
Garlic – 3 cloves, finely chopped
Ginger – 1/4 inch piece, finely chopped
Onion – 1/2, julienned
Cumin Powder – 1/4 tsp
Turmeric Powder – 1/4 tsp
Coriander Powder – 1/4 tsp
Red Chilli Powder – 1/4 tsp
Salt as per taste
Sugar as per taste
Butter – little
Lime Juice – 2 tsp

For the marinade:
Juice of 1/2 Lime
Salt – 1/4 tsp
White Pepper Powder – 1/4 tsp
Method:
1. Boil the spinach and fenugreek leaves till cooked.
2. Switch off the flame and keep aside.
3. Combine the marinade ingredients in a bowl and rub it all over the fish fillets.
4. Ensure the fish pieces are well coated.
5. Cover and keep the bowl in the fridge for an hour.
6. Heat 1 tblsp oil in a frying pan.
7. Fry the fish till light golden. Remove and drain excess oil.
8. Add 1 tblsp oil to the pan.
9. Add the ginger and garlic.
10. Fry for 30 seconds.
11. Add the onions and saute well.
12. Add the cumin powder, turmeric powder, coriander powder and red chilli powder.
13. Add a little water and mix well till the masala is light brown.
14. Add the tomato puree and reduce flame to low.
15. Simmer for 2 to 3 minutes.
16. Add sugar and salt. Stir to mix well.
17. Add the spinach and fenugreek leaves.
18. Cook for a few minutes and add the fried fish.
19. Gently mix and cover the pan with a lid.
20. Simmer for 8 to 10 minutes or until fish is cooked.
21. Add butter and lime juice.
22. Serve hot with paratha or naan or rice.
Note: image is for illustration purposes only and not that of the actual recipe.