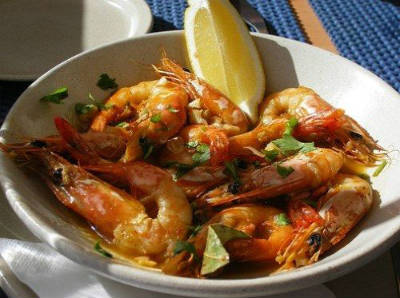 Ingredients:
Prawns – 400 gms, shelled, deveined, washed, cleaned
Lime Juice – 2 tsp
Coriander Leaves – handful, chopped
For the marinade:
Ginger – 1/4 inch piece, peeled
Green Chillies – 2
Fennel Seeds – 1/2 tsp
Coriander Seeds – 1/4 tsp
Peppercorns – 1/4 tsp
Salt – 1/4 tsp
Mustard Paste – 1 tblsp
Red Chilli Powder – 1/4 tsp
Juice of 1/2 Lime
Mustard Oil – 1 tsp
Method:
1. Dry roast the ginger, green chillies, fennel seeds, coriander seeds and peppercorns.
2. Grind them together with salt and little water.
3. Add the chilli powder, lime juice, mustard oil and mustard paste.
4. Mix well until smooth.
5. Add the prawns and gently mix until evenly coated.
6. Cover and keep aside for 15 to 20 minutes.
7. Transfer the prawns to a roasting tray and spread them out evenly.
8. Place the tray in a preheated oven at 160C/320F for 10 minutes or until cooked.
9. Remove and keep aside to cool.
10. Just before serving, sprinkle lime juice and coriander leaves.
11. Serve at once.
image credit: nibbledish.com
Note: image is for illustration purposes only and not that of the actual recipe.