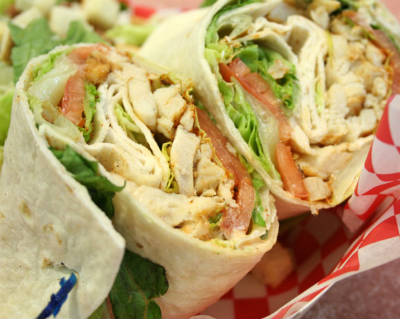 Ingredients:
Chicken Breast Fillets – 2, cubed
Tortillas – 2
Coriander Leaves – 1/4 cup
Red Onion – 1, finely sliced
Radish – 2, finely sliced
Barbecue Sauce – 1 cup
Wooden Skewers – soaked in water for 30 to 45 minutes

For the marinade:
Garlic – 3 cloves, minced
Tomato Juice – 2 tblsp
Tomato Ketchup – 1/4 cup
Lemon Juice – 1/2 tblsp
Chinese Wine Vinegar – 1/2 tsp
Tabasco Sauce – 1/4 tsp
Red Chilli Flakes – little
Paprika Powder – a pinch
Salt as per taste
Black Pepper Powder as per taste
Method:
1. Combine the marinade ingredients in a large bowl.
2. Add the chicken pieces and mix well until evenly coated.
3. Keep aside for 1 or 2 hours.
4. Skewer the marinated chicken and grill them on a preheated grill for a minute each side.
5. Baste with the marinade from time to time and remove when done.
6. Alternatively, after a minute of grilling, cook the chicken in a preheated oven at 400F/200C for 5 to 6 minutes.
7. Remove the chicken pieces from the skewers.
8. Heat the tortillas in a pan for a minute on each side.
9. Place the tortillas on a clean surface or large plate.
10. Add the coriander leaves, red onions, radish and a portion of the cooked chicken pieces.
11. Roll tightly into a wrap.
12. Serve with barbecue sauce.