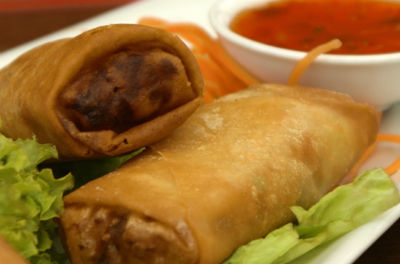 Ingredients:
Salmon Fillets – 125 gms, cut into 6 strips
Ginger – 1/2 inch piece, peeled, grated
Garlic – 2 cloves, crushed
Spring Roll Wrappers – 6
Spring Onions – 2, chopped
Dill – few, chopped
Lemon Juice – 2 to 3 tsp
Oil for deep frying
For the sauce:
Lemon Juice – 1 tblsp
Spring Onions – 1 tblsp, chopped
Soy Sauce – 1/2 tblsp
Dill – 1/2 tblsp
Sugar – 1 tsp
Method:
1. Combine the garlic, ginger and lemon juice in a bowl.
2. Mix well to a paste.
3. Place a salmon strip on one wrapper and spread the ginger garlic paste.
4. Add some dill and spring onions on top.
5. Brush the edges with a little water and roll up the pastry.
6. Repeat with the other salmon and wrappers.
7. Heat oil in a pan over high flame.
8. Fry the prepared rolls for 2 minutes or until golden and crisp.
9. Remove and drain excess oil.
10. Mix all the sauce ingredients in a bowl.
11. Serve the spring rolls with the sauce.