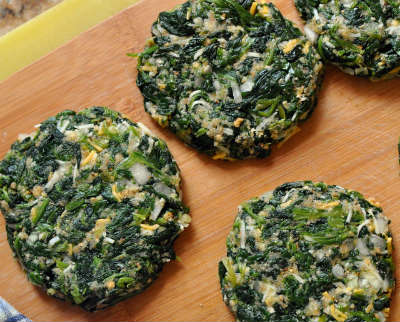 Ingredients:
Spinach – 1 1/2 cups, chopped
Onions – 1/4 cup, finely chopped
Garlic – 1 clove, minced
White Kidney Beans – 200 gms
Rice – 1/4 cup, cooked
Salt as per taste
Pepper Powder as per taste
Olive Oil – 1 1/2 tblsp
To serve:
Burger Buns – 4, halved
Ketchup or Mustard
Green Chutney
Onion rings
Tomato slices
Coriander Leaves – few, chopped
Pepper Powder
Method:
1. Heat 1/2 tblsp of oil in a large pan over medium flame.
2. Saute the onions for a minute.
3. Add the garlic and stir-fry for 30 seconds.
4. Add the spinach and cook for 2 to 3 minutes.
5. Transfer to a mixer jar and add the beans.
6. Blend together until well combined.
7. Transfer to a bowl along with the rice.
8. Add salt and pepper.
9. Divide the mixture and make medium sized balls. Flattem them into medium patties.
10. Heat the remaining oil in a non stick frying pan.
11. Cook the patties on both sides until browned evenly.
12. To serve, toast the burger buns on a tawa.
13. Spread green chutney on one half and mustard on the other.
14. Place the cooked patty on one half.
15. Place a tomato slice and onion rings. Sprinkle some pepper powder and coriander leaves.
16. Cover with the other half and serve with ketchup at once.
image credit: thevillagecook.com