Have you ever heard of a spinach burger recipe? If the answer is no then you are certainly missing out one of the most scrumptious and healthy burgers which also tastes like heaven.
It might be hard to find a spinach burger recipe in a typical Indian restaurant or hotel and therefore you can try this recipe in your kitchen. Moreover, it is a hassle-free recipe which will be relished by both kids and adults of your family.
Spinach Burger is absolutely healthy and low in fat and carbs. People who are fond of green veggies might hesitate to try it but you will never forget this burger once you taste it.
Moreover, it is an ideal recipe for those who prefer vegan food items. Spinach is a superfood when it comes to its nutritional value and the number of health benefits it provides. It is healthy for your skin, bones, and hair as well. Rich in minerals, iron, vitamins, and proteins, spinach is the key vegetable one must include in his/her daily diet.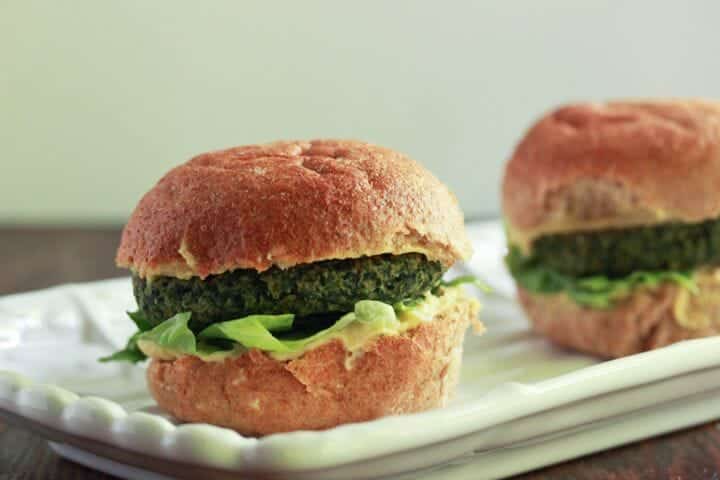 You can also add green peas or kidney beans to make the burger healthier and tastier. Kids do tend to make excuses to avoid eating veggies and it is always a hard task for the parents to make them eat plenty of green leafy vegetables.
However, through this recipe, you can make them eat healthy spinach and few other healthy veggies in a deceitful way as the little ones will never know what is exactly between the two bread slices. Some people might like to add cheese slices to this burger to make it more delicious and creamy but health conscious people would like to keep it plain and simple.
Have these sumptuous and healthy burgers with your family regularly to grow as strong as Popeye the Sailor Man!
Spinach Burger

Recipe

Have these sumptuous and healthy burgers with your family regularly to grow as strong as Popeye the Sailor Man!
Ingredients for
Spinach Burger
1.5

cups

Spinach

chopped

1/4

cup

Onions

finely chopped

1

nos

Garlic Clove

minced

200

gms

White Kidney Beans

1/4

cup

Rice

cooked

as per taste

Salt

as per taste

Pepper Powder

1 1/2

tblsp

Olive Oil
To serve:
4

nos

Burger Buns

halved

as required

Ketchup

or Mustard

as required

Green Chutney

as required

Onion rings

as required

Tomato slices

as required

Coriander Leaves

chopped

as required

Pepper Powder
How to make
Spinach Burger
Heat 1/2 tblsp of oil in a large pan over medium flame.

Saute the onions for a minute.

Add the garlic and stir-fry for 30 seconds.

Add the spinach and cook for 2 to 3 minutes.

Transfer to a mixer jar and add the beans.

Blend together until well combined.

Transfer to a bowl along with the rice.

Add salt and pepper.

Divide the mixture and make medium sized balls. Flattem them into medium patties.

Heat the remaining oil in a non stick frying pan.

Cook the patties on both sides until browned evenly.

To serve, toast the burger buns on a tawa.

Spread green chutney on one half and mustard on the other.

Place the cooked patty on one half.

Place a tomato slice and onion rings. Sprinkle some pepper powder and coriander leaves.

Cover with the other half and serve with ketchup at once.