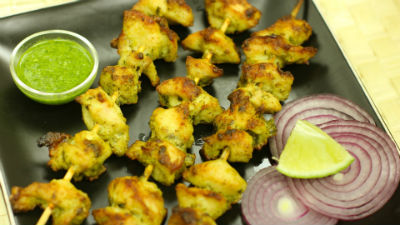 Ingredients:
Chicken – 250 gms, boneless, washes, cubed
Butter – 1 tsp
Coriander Leaves – 1 tsp, chopped
Juice of 1/2 Lemon
Wooden Skewers – 3 to 4, soaked in water

For the marinade:
Ginger Garlic Paste – 2 tsp
Turmeric Powder – 1/4 tsp
Thick Cream – 2 tblsp
Curd – 2 tblsp, whisked
Oil – 1/2 tsp
Salt – 1/3 tsp
Lemon Juice – 2 to 3 tsp
Garam Masala Powder – 1/2 tblsp
Method:
1. Keep the chicken pieces in a bowl and cover with a lid.
2. Combine all the marinade ingredients in a large bowl and mix well.
3. Add the chicken pieces and evenly coat them with the marinade.
4. Cover and keep it in the fridge for 2 to 3 hours.
5. Skewer the marinated chicken pieces and place them on a roasting tray.
6. Roast them in a hot over for 15 minutes, turning halfway through and basting them with a little butter.
7. Remove when the chicken pieces are golden brown and chicken is cooked.
8. Remove and keep aside to cool.
9. Remove the chicken pieces from the skewers and transfer to a plate.
10. Sprinkle the lemon juice on top.
11. Garnish with coriander leaves.
12. Serve at once with chutney of choice and sliced onions by the side.
Note: image is for illustration purposes only and not that of the actual recipe.