Misal Pav is a very popular street food in Mumbai. A traditional Maharashtrian chaat dish, Misal Pav is made using moth beans, green gram and served with pav buns. Highly nutritious, they are generally served as a breakfast dish but these days they are served all round the day.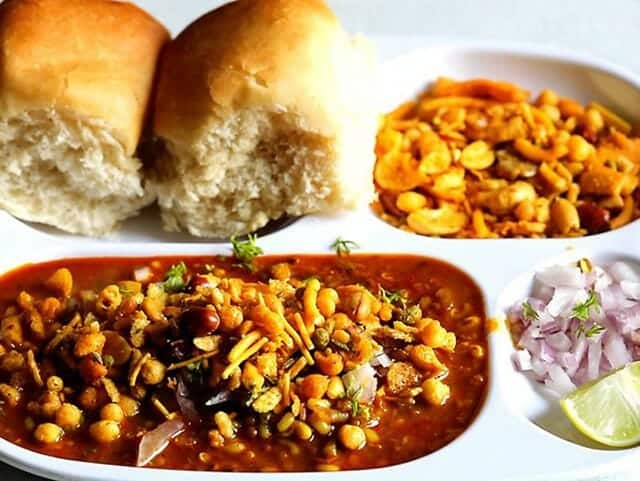 Ingredients:
Moth Dal (Moth Beans) – 1 1/2 cups, soaked and boiled
Green Gram (Pachai Payaru) – 1 1/2 cups, soaked and boiled
Onions – 1 cup, finely chopped
Ginger Garlic Paste – 1 tsp
Coriander Powder – 1 tsp
Cumin Powder – 1 tsp
Turmeric Powder – 1/2 tsp
Salt as per taste
Garam Masala Powder – 1 tsp
Pav Buns – 2 packets
Butter – 1/2 cup

For tempering:
Oil – 1 tblsp
Mustard Seeds – 1/2 tsp
Cumin Seeds – 1/2 tsp
Asafoetida Powder – a pinch
For garnish:
Coriander Leaves – handful, chopped
Curry Leaves – handful, chopped
Sev – 1 cup
Method:
1. Combine the moth dal and green gram in a bowl.
2. Lightly mash together and keep aside.
3. Heat oil in a pan over medium flame.
4. Fry the mustard seeds for 30 seconds.
5. Add cumin seeds and fry for 15 to 20 seconds.
6. Add the onions and saute well.
7. Add turmeric powder, ginger garlic paste and stir well.
8. Add coriander powder, red chilli powder, cumin powder and mix well.
9. Add asafoetida powder, salt, garam masala powder and 1 cup of water.
10. Bring to a boil and add the mashed moth dal-green gram mixture.
11. Simmer for a minute and remove from flame.
12. Garnish with coriander leaves and curry leaves.
13. Slice the pav buns in half.
14. Heat a tawa over medium flame.
15. Add a little butter and toast the pav buns until golden.
16. Place the buns on a plate along with a cup of the misal.
17. Sprinkle sev on top.
18. Serve at once.