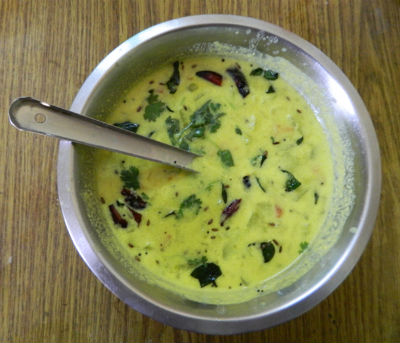 Ingredients:
Thick Curds – 4 cups
Coconut – 2 cups, grated
Dry Red Chillies – 6
Urad Dal – 1 tblsp
Fenugreek Seeds – 1 tsp
Oil – 1 tblsp
Mustard Seeds – 1/4 tsp
Drumstick (or Banana Stem or White Pumpkin) – 1 cup, chopped
Curry Leaves – few, chopped
Method:
1. Heat little oil in a pan over medium flame.
2. Add dry chillies, urad dal and fenugreek seeds.
3. Fry till golden.
4. Remove and grind together with coconut.
5. Heat a pan of water and boil the drumsticks with little salt till 3/4ths done.
6. Mix the ground paste with the curds.
7. Heat oil in a pan.
8. Fry the mustard seeds till it starts to splutter.
9. Add the drumsticks and stir-fry for a minute.
10. Add the curds, salt and bring to a boil.
11. Garnish with curry leaves.
12. Serve hot with rice.
Note: image is for illustration purposes only and not that of the actual recipe.