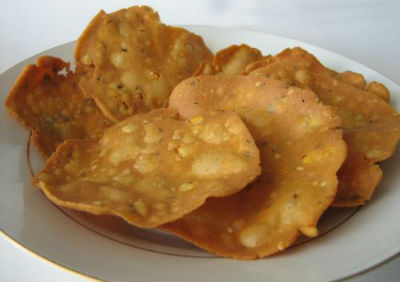 Ingredients:
Rice Flour – 2 cups
Maida – 1/4 cup
Gram Flour – 1/2 cup
Peanuts – 2 tblsp
Roasted Gram – 2 tsp
Cumin Seeds – 2 tsp
Curry Leaves – few
Oil as required
Salt as per taste

Method:
1. Combine all the ingredients except oil in a bowl.
2. Add enough water and mix well to a pliable dough.
3. Pinch small balls and flatten them to small-medium sized thattais.
4. Heat oil in a frying pan till smoking.
5. Fry the prepared thattais on both sides till golden.
6. Remove and drain excess oil.
7. Serve.
Note: image is for illustration purposes only and not that of the actual recipe.