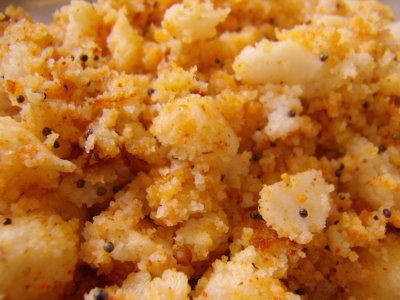 Ingredients:
Leftover Idlis – 8 to 10
Mixed Vegetables – 1/2 cup, finely chopped, cooked
Onion – 2, medium, finely chopped
Curry Leaves – 1 sprig
Mustard Seeds – 1/2 tsp
Green Chillies – 2 to 3, finely chopped
Ginger – 1 one inch piece, finely chopped
Urad Dal – 1 tsp
Chana Dal – 1 tsp
Oil for frying (3 to 4 tsp)
Salt as per taste
Method:
1. Crumble the idlis to very small pieces.
2. Heat oil in a pan and fry the mustard seeds till it splutters.
3. Add the urad dal, chana dal and fry them till golden brown.
4. Add the green chillies, ginger and saute for a minute.
5. Add the onions and fry till transparent.
6. Add the cooked vegetables and little salt.
7. Saute for a couple of minutes.
8. Add the crumbled idlis and all the other ingredients.
9. Cook for a few minutes till well done.
10. Remove and transfer to a serving plate.
11. Serve hot with chutney of choice.