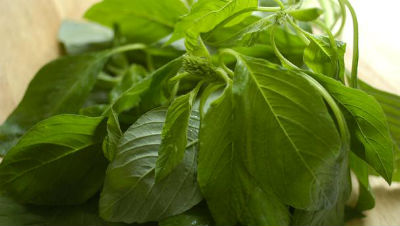 Ingredients:
Toor Dal – 100 gms
Bengal Gram Dal – 100 gms
Urad Dal – 50 gms
Mulai Keerai (Amaranth Leaves) – 1 cup, finely chopped
Drumstick Leaves – 1 cup, finely chopped
Siru Keerai (Tropical Amaranthus) – 1 cup, finely chopped
Black Peppercorns – 10
Ginger – 1/2 inch piece, finely chopped
Oil – 250 ml
Salt as per taste
Method:
1. Soak the three dals together in a cup for one hour.
2. Drain the water and transfer to a bowl.
3. Add the ginger, salt, black peppercorns and grind to a thick paste.
4. Wash all the spinach and drain excess water.
5. Heat 1 tsp oil in a pan and saute the spinach leaves.
6. Remove and mix the spinach with the ground dal paste.
7. Heat the remaining oil in a frying pan.
8. Take a small lemon sized ball of the dough and flatten them in your palm.
9. Deep fry these in hot oil till golden brown.
10. Remove and excess oil.
11. Serve hot.
Note: image is for illustration purposes only and not that of the actual recipe.