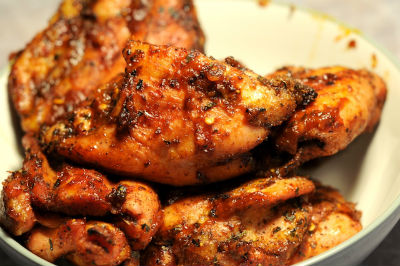 Ingredients:
Chicken – 500 gms, chopped
Yogurt – 1/2 cup, beaten
Kachri Powder – 1 tblsp
Garlic Paste – 2 tblsp
Red Chilli Powder – 1 1/2 tblsp
Oil – 1/2 cup
Water – 1 to 2 tblsp
Salt as per taste
Method:
1. Combine the yogurt, kachri powder and salt in a bowl.
2. Marinate the chicken pieces in this for 2 hours.
3. In another bowl, mix the garlic paste, red chilli powder and oil with the marinated chicken pieces.
4. Transfer to a pan over low flame.
5. Cook till chicken becomes tender, adding water gradually.
6. Now transfer it to a oven-proof dish.
7. Heat a piece of coal over the flame till it is red hot.
8. Put it in a cup and place it in the middle of the dish.
9. Add 3 cloves to the coal and ghee.
10. Immediately cover with a lid and smoke for 5 minutes.
11. Remove and serve immediately.
Note: image is for illustration purposes only and not that of the actual recipe.