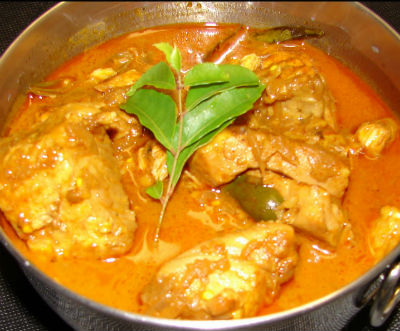 Ingredients:
Fish – 250 gms, sliced
Oil – 1 1/2 tblsp
Onions – 1/4 cup, sliced
Ginger – 3/4 tbslp, sliced
Green Chillies – 2, small, slit
Garlic – 5 to 6 cloves
Curry Leaves – few
Vinegar as per taste
Salt as per taste
Coconut Milk – 1/2 cup, thick
Grind together:
Coriander Powder – 1 tsp
Red Chilli Powder – 1/2 tsp
Mustard Seeds – 1/8 tsp
Turmeric Powder – 1/4 tsp
Black Peppercorns – 1/8 tsp
Method:
1. Heat oil in a pan over moderate flame.
2. Saute the onions till transparent.
3. Add ginger, green chillies and ground powder.
4. Saute well and add garlic and curry leaves.
5. Fry for a minute or two.
6. Now add the fish, vinegar and salt.
7. Mix gently and pour enough water to cover the fish.
8. Reduce flame and cover pan with a lid.
9. Add the coconut milk when the gravy has reduced by half.
10. Remove the lid and simmer for a few minutes.
11. Garnish with a few curry leaves.
12. Serve hot.