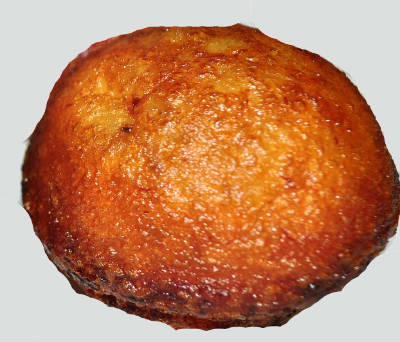 Ingredients:
Raw Rice Flour – 1 cup
Maida – 1/4 cup
Banana – 1, small or 1/2, large, peeled, mashed
Ghee – 1/4 cup
Cardamom Powder – 1/2 tsp
Jaggery – 1 cup, powdered
Coconut – 1/4, chopped
Oil – 2 tblsp
Method:
1. Combine the maida and rice flour in a bowl.
2. Dissolve the jaggery in 1/4 cup of water and bring to a boil.
3. Fry the coconut pieces in little ghee and add to the jaggery syrup.
4. Add the mashed banana and mix well.
5. When the mixture starts to boil, pour into the flour mixture and mix well.
6. Add cardamom powder and mix well to an idli batter consistency.
7. Mix the remaining ghee and oil.
8. Grease an unniappam pan with ghee and oil mixture and heat over moderate flame.
9. Pour the batter in the cups and cook till golden brown.
10. Flip over and cook on the other side.
11. Remove and drain excess oil.
12. Serve as a snack.