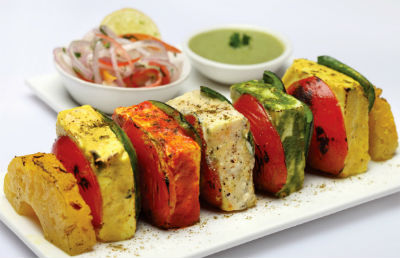 Ingredients:
Paneer – 500 gms, cubed
Capsicum – 2 tblsp, chopped
Onion – 2 tblsp, chopped
Tomatoes – 2 tblsp, chopped
Carrots – 2 tblsp
Hung Curd – 1 cup
Ginger Garlic Paste – 2 tblsp
Red Chilli Powder – 2 tsp
Tandoori Masala Powder – 1 tsp
Garam Masala Powder – 1 tsp
Chaat Masala Powder – 1 tsp
Cumin Seed Powder – 1 tsp
Coriander Leaves – handful, finely chopped
Butter – 2 tblsp
Oil – 1 tblsp
Wooden Skewers soaked in water for 45 minutes
Method:
1. Combine curd, red chilli powder, garam masala powder, ginger garlic paste, tandoori masala powder, coriander leaves and salt in a bowl.
2. Mix well.
3. Add the paneer cubes and keep aside for 1 to 2 hours.
4. Heat oil and 1 tsp butter in a pan over medium flame.
5. Fry the marinated paneer pieces till golden brown.
6. Remove and transfer to a plate.
6. Add the remaining butter to the pan.
7. Saute the capsicum, tomatoes, onion and carrots for a minute or two.
8. Add chaat masala powder and salt.
9. Stir well and simmer for a minute or two.
10. Spoon this over the paneer pieces.
11. Serve with green chutney.
Method 2:
Follow steps 1 to 3 from above.
4. Skewer the marinated paneer and the vegetables as per choice. Each skewer to have 2 or 3 paneer pieces.
5. Place the skewers in a preheated grill.
6. Brush with the remaining butter and grill till the paneer pieces are golden and vegetables are tender.
7. The paneer should not be overcooked otherwise it will become rubbery.
8. Transfer to a plate and remove the skewers.
9. Sprinkle chaat masala on top.
10. Serve with green chutney.