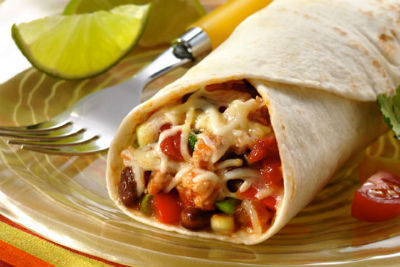 Ingredients:
Onion – 1/2 cup, chopped
Flour Tortillas – 4, medium size
Refried Beans – 225 gms
Cheddar Cheese – 1/2 cup, shredded
Lettuce – 1/2 cup, shredded
Salsa – 2 1/2 tblsp
Oil – 1/2 tblsp
Sour Cream – to serve, (optional)
Method:
1. Stack and wrap the tortillas tightly in foil.
2. Bake in a preheated oven at 350F for 10 minutes or until soft.
3. Heat oil in a large pan over medium flame.
4. Saute the onions till tender.
5. Add the beans and cook for a couple of minutes.
6. Spread some of the beans-onion filling over the bottom half of the tortillas.
7. Sprinkle 1 tblsp of cheese and fold up bottom edge and roll up from the bottom.
8. Bake them in a ungreased baking tray for 6 to 10 minutes or until heated through.
9. Serve with salsa and lettuce with the sour cream at the side.
image credit: migentehispana