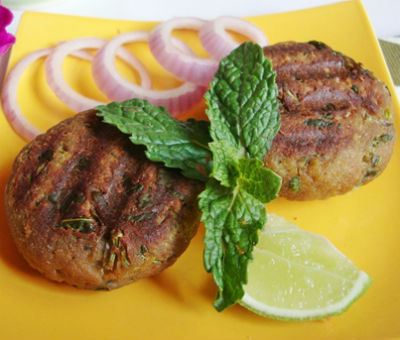 Ingredients:
Minced Lamb – 375 gms
Raw Papaya Paste – 1/4 cup
Besan Flour – 2 tblsp
Ghee – 1 tblsp + extra for shallow frying
Green Cardamoms – 2, crushed
Salt as per taste
Method:
1. Combine the lamb mince and papaya paste together and keep aside for 30 to 40 minutes.
2. Add besan and salt.
3. Mix well.
4. Heat ghee in a pan over low flame.
5. Add cardamoms and stir until red.
6. Remove and cool.
7. Then grind to a powder.
8. Transfer the lamb mince to a large pan.
9. Place a small metal bowl in the middle and put a few pieces of live charcoal in this bowl.
10. Sprinkle powdered cardamoms and 1 tblsp of ghee on the charcoal.
11. Cover and smoke for 30 to 40 minutes.
12. Uncover and remove the bowl.
13. Divide the mince into equal balls and flatten them.
14. Heat ghee in a pan and shallow fry the lamb patties over low heat.
15. Turn once and cook till done.
16. Remove and serve hot.
Note: The Galouti Kebab is part of the "Awadhi Cuisine" and is also called as "Smoked Lamb Patties".