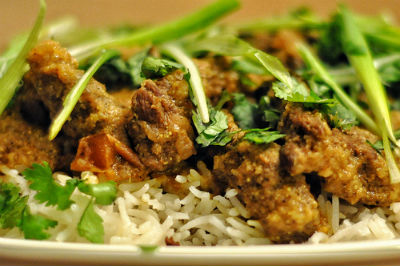 Ingredients:
Lamb – 125 gms, cubed
Onions – 2, small, sliced
Tomatoes – 1, chopped
Red Chilli Powder – 1/2 tsp
Garam Masala Powder – 1/2 tsp
Juice of 1/2 Lemon
Coriander Leaves – 1 tblsp, chopped
Turmeric Powder – 1/8 tsp
Oil – 1 tblsp
Sugar – 1/2 tsp
Grind to a paste:
Green Chillies – 2
Ginger Garlic Paste – 1 tsp
Aniseed – 1/2 tsp
Coriander Powder – 1 tsp
Method:
1. Heat oil in a pan over moderate flame.
2. Add the onions, red chilli powder, garam masala powder, turmeric powder and ground paste.
3. Mix well and add the lamb pieces.
4. Saute for a few minutes adding enough water to cook the lamb.
5. When the lamb is 3/4th cooked, add tomatoes, sugar, lemon juice and salt.
6. Cook till the lamb is tender and little gravy remains.
7. Garnish with coriander leaves.
8. Serve hot with rice.