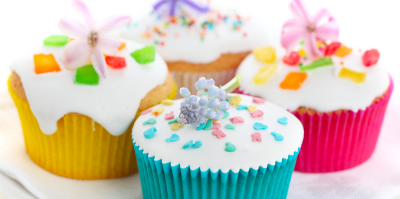 Ingredients:
Egg – 1, large
Maida – 50 gms
Caster Sugar – 50 gms
Butter – 50 gms, soft
Baking Powder – 1/2 tsp
Fairy cake cups
For the icing:
Icing sugar – 120 gms
Warm Water – 1 1/2 tblsp
Small Cherries, sprinkles or little gems to garnish
Method:
1. Combine the egg, maida, caster sugar, butter and baking powder in a bowl.
2. Beat till smooth.
3. Fill the cake cups with this mixture and place them in a greased tin.
4. Bake them in a preheated oven at 200C for 15 minutes till the cakes are well risen and golden brown.
5. Remove the cups from the tin and keep aside to cool.
6. To make the icing, mix icing sugar with warm water till stiff.
7. Spoon this over the cakes.
8. Garnish with the cherries/gems/sprinkles.