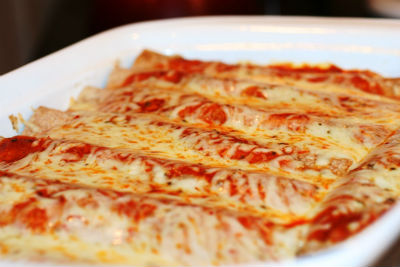 Ingredients:
Capsicum – 1 cup (1/2 red + 1/2 green)
Sunflower Oil – 1 tblsp + plus some more for frying
Red Onion – 1, small, diced
Corn – 1/2 cup, cooked
Olives – 30 gms, sliced
Cumin powder – 1/4 tsp
Sea Salt – 1/2 tsp
Coriander Powder – 1/4 tsp
Corn Tortillas – 6
Cheddar Cheese – 60 gms, shredded
Spring Onions – 1, finely sliced
Enchilada Sauce – 1 1/2 cups (available in most major supermarkets)
Method:
1. Heat a tblsp of oil in a large pan over medium flame.
2. Cook the capsicums for 3 to 5 minutes.
3. Add the onions and cook for another 3 minutes.
3. Now add the garlic and reduce flame to low.
4. Cook until all vegetables are tender, about 5 to 8 minutes.
5. Transfer them to a large bowl.
6. Add 1/4 cup of enchilada sauce, corn, olives, salt, cumin powder and coriander powder.
7. Place the remaining enchilada sauce in a small pan and warm.
8. Transfer to a round cake pan.
9. Dip the tortillas, one by one, in the warmed sauce on both sides and transfer to a plate.
10. Spoon about 1/4 cup of the mixture in the center of the tortilla.
11. Roll tightly enclosing the filling.
12. Transfer them to a baking pan, seam side down.
13. Repeat with the other tortillas, making 2 rows in the baking pan.
14. Pour the leftover sauce over, covering them evenly.
15. Sprinkle cheese and bake in a preheated oven at 350F for 10 to 15 minutes or until a knife inserted in the middle comes out clean and hot.
16. Garnish with spring onions.
17. Serve.
Note: image is for illustration purposes only and not that of the actual recipe.