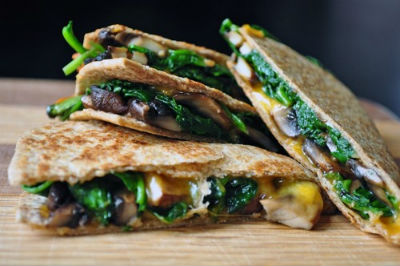 Ingredients:
Mushrooms – 100 gms, coarsely chopped
Spinach – 125 gms, chopped
Parmesan Cheese – 1/4 cup, grated
Mozzarella Cheese – 1/4 cup, shredded
Basil Leaves – 1 tsp, crushed
Flour Tortillas – 2
Red Onion – 1/4 cup, finely sliced
Olive Oil – 1/2 tblsp
Garlic – 1 clove, minced
Olive Oil as required

Method:
1. Heat 1 tsp of oil in a pan over moderate flame.
2. Add the sliced onions and garlic.
3. Saute until onion is tender, about 3 to 4 minutes.
4. Add the mushrooms and cook for 3 to 4 minutes.
5. Add the chopped spinach leaves and cook till the leaves are wilted, stirring from time to time.
6. Remove the pan from the heat.
7. Add the parmesan and mozzarella cheeses and basil leaves.
8. Spread some of the spinach-mushroom mixture onto half of each tortilla.
9. Fold in half and press lightly.
10. Lightly brush the sides with oil.
11. Cook the quesadillas in a hot pan for 2 minutes until light brown and the cheese has melted.
12. Cut the quesadillas in half and serve hot.