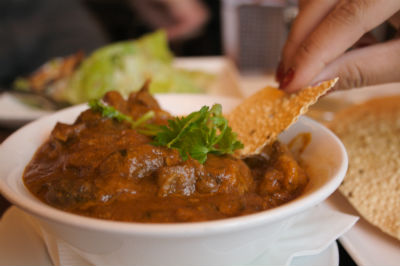 Ingredients:
Lamb – 500 gms, cubed
Yogurt – 1/2 cup, whisked
Asafoetida – a small pinch
Red Chilli Powder – 1 tsp
Water – 1 cup
Ginger Powder – 1 tsp
Saunf Powder – 2 tsp
Saffron – 1/4 tsp, soaked in 2 tsp
Garam Masala Powder – 1/2 tsp
Cloves – 2
Cinnamon – one inch stick
Black Cardamoms – 1
Bay Leaf – 1
Ghee – 1/3 cup
Salt as per taste
Method:
1. Combine the yogurt, cloves, cinnamon, black cardamom and bay leaf in a bowl.
2. Marinate the lamb in this mixture for 5 to 10 minutes.
3. Heat ghee in a pan over moderate flame.
4. Add the marinated lamb and cover the pan with a lid.
5. Remove the lid after a minute or two.
6. Add asafoetida and salt. Stir well.
7. Increase the flame to high and cook till yogurt dries completely.
8. Reduce flame and stir well to prevent the lamb from sticking to the pan.
9. Add a little water and stir till lamb pieces turn light brown.
10. Cook till the oil floats to the top.
11. Add red chilli powder and increase flame to high.
12. Stir and add water, ginger powder and saunf.
13. Cook for 10 to 15 minutes.
14. Add the saffron strands cook till lamb is tender.
15. Add garam masala powder and stir to mix well.
16. Remove and serve hot.