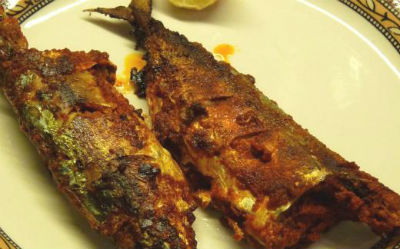 Ingredients:
Pomfret – 1, medium (or 2 small Mackerel), cleaned, washed
Salt as per taste
Oil

For Masala:
Kashmiri Red Chillies – 12 to 13
Cumin Seeds – 1/2 tsp
Garlic – 5 cloves, peeled
Peppercorns – 7 to 8
Ginger – 1 one inch piece, peeled
Dried Tamarind – 1 tblsp
Seedless Plums – 1 tblsp, dried
Turmeric Powder – 1/2 tsp
Vinegar – 1/2 cup
Sugar – 1/2 tsp
Salt as per taste
Method:
1. To make the masala, grind all the ingredients (except sugar, salt and turmeric powder) in vinegar to a smooth paste.
2. Add sugar, salt and turmeric powder. Mix well.
3. Make a slit along both sides of the backbones, almost across the fish but do not separate the fish.
4. Apply salt and keep aside.
5. Fill the insides with the ground masala and tie with a piece of string.
6. Keep aside to marinate for 1 hour.
7. Heat oil in a pan and shallow fry the fish over medium heat.
8. Turn once or twice till it is deep brown colour.
9. Remove and serve hot.