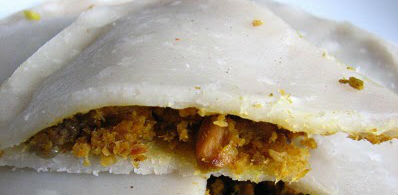 Ingredients:
Fish Fillets – 250 gms, cut into small pieces
Red Chilli Powder – 1 tsp
Turmeric Powder – 1/2 tsp
Salt – 1/4 tsp
Oil – 2/3 cup + 1/3 cup
Onion – 1, small, chopped
Green Chillies – 2, chopped
Rice Flour
For the dough:
Parboiled Rice – 500 gms, washed and soaked in hot water for 5 to 6 hours
Coconut – 1, small, grated (or 1/2 medium)
Small Onions – 3, chopped
Cumin Seeds – a small pinch
Water – 3/4 cup
Grind to a fine paste:
Coconut – 1/4, grated
Red Chilli Powder – 1/4 tsp
Small Onions – 2, chopped
Curry Leaves – handful
Salt – 1/4 tsp
Water – 2/3 cup
Method:
1. Hang the soaked rice in a muslin cloth for 1 to 2 hours to drain well.
2. Grind with the remaining dough ingredients. Keep aside.
3. Mix the red chilli powder, turmeric powder and salt in a bowl.
4. Rub this onto the fish pieces.
5. Heat 2/3 cup of oil in a frying pan.
6. Fry the fish pieces for 3 to 5 minutes till cooked.
7. Drain and mash the fish lightly.
8. Heat 1/3 of the oil in an another pan.
9. Fry the onions till translucent.
10. Add green chillies and fry for another 3 to 5 minutes.
11. Add the ground coconut paste and 1/3 cup of water.
12. Cook, stirring all the time, for 3 to 5 minutes.
13. Add the fish pieces and cook for another 3 to 4 minutes.
14. Make small balls of the reserved dough.
15. Dust with the rice flour and roll into thin pathiri.
16. Spoon 1 to 2 tblsp of the fish mixture over half the pathiri.
17. Fold over the other half and seal the edges.
18. Steam cook for 10 to 13 minutes.
19. Serve hot with curry of choice.
image credit: mallu spice