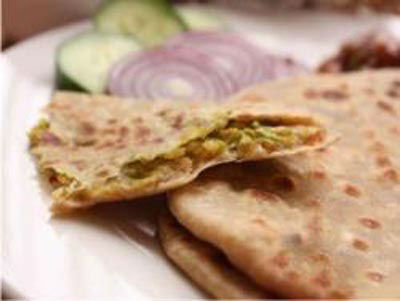 Ingredients:
Sooji – 1 kg, roasted
Green Peas – 2 cups, shelled, boiled, mashed
Paneer – 2 cups, crumbled
Ginger Chilli Paste – 2 tblsp
Coriander Leaves – 2 tblsp
Hung Curd – 1 cup, sour
Asafoetida – 1/4 tsp
Sugar – 2 tsp
Red Chilli Powder – 1 tsp
Garam Masala Powder – 2 tsp
Wheat Flour – to dust
Ghee – 2 cups
Method:
1. In a bowl, mix the mashed peas with paneer, ginger chilli paste, coriander, curd, asafoetida, sugar, red chilli powder, garam masala and salt.
2. Mix well and keep aside.
3. Mix the sooji with some water and knead to a semi-stiff dough.
4. Make walnut sized balls and roll them on a floured surface to make a small-medium circle.
5. Place 2 to 3 (or as required) tblsp of the green peas mixture in the centre and shape into small-medium balls.
6. Roll again into a small-medium paratha.
7. Shallow fry the paratha with a little ghee on a hot tawa on both sides till golden brown.
8. Serve hot.
Image credit: Kutna