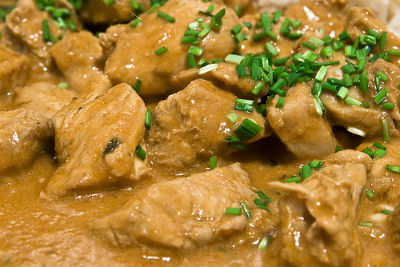 Ingredients:
Masoor Dal – 125 gms, soaked for 45 minutes
Lamb – 375 gms, cut into bite-sized pieces
Oil – 1 tblsp
Onions – 2, chopped
Tomatoes – 2, chopped
Ginger Garlic Paste – 1 tblsp
Garam Masala Powder – 1/2 tsp
Sambar Masala Powder – 1/2 tsp
Green Chillies – 2
Turmeric Powder – 1/4 tsp
Salt as per taste
Method:
1. Heat oil in a pressure pan.
2. Saute the chopped onions till golden brown.
3. Add ginger garlic paste, garam masala powder, sambar powder, green chillies, turmeric powder and salt.
4. Cook for 5 minutes and add the tomatoes.
5. Reduce flame to low and cook for 2 minutes or till all water has evaporated.
6. Now add the lamb pieces and dal.
7. Cover with a lid and pressure cook till done.
8. If you want a smooth gravy, remove the dal from the pan, mash well and put it back in.
9. Remove and serve hot.
Note: image is for illustration purposes only and not that of the actual recipe.