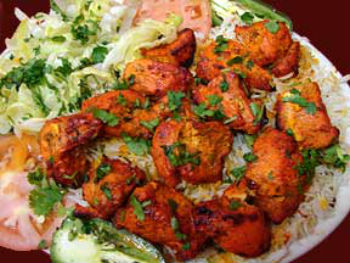 Ingredients:
Chicken – 500 gms, boneless, cubed
Raw Papaya Paste – 1/2 tsp
Malt Vinegar – 1/8 cup
Butter – 1 tblsp
Salt as per taste
For the marinade:
Hung Curd – 100 gms, whisked
Ginger Garlic Paste – 2 tblsp
Red Chilli Paste – 1 tblsp
Garam Masala Powder – 1 tsp
Oil – 5 to 6 tblsp
Salt as per taste
Method:
1. In a bowl combine the malt vinegar with papaya paste and salt.
2. Add the chicken cubes and mix well ensuring the chicken is coated well with the mixture.
3. Keep aside for 10 to 20 minutes.
4. Blend all the marinade ingredients and marinate the chicken pieces for another 10 to 20 minutes.
5. Heat butter in a flat pan over moderate flame.
6. Add the chicken pieces and cook for about 12 minutes or till little moisture remains.
7. Turn the pieces frequently so that it cooks evenly.
8. Remove and serve hot with a salad and chutney of choice.
Note: image is for illustration purposes only and may not be of the actual recipe.
Image credit: utshob