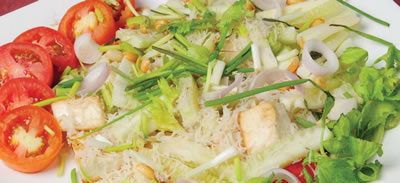 Ingredients:
Tofu – 200 gms, cubed
Oil for frying
Tomato – 1, sliced
Onion – 1, sliced into rounds
Lettuce – 1 cup
Spring Onions – 4, chopped
Rice Noodles – 1 cup, cooked as per instructions on pack
Green Chillies – 2
Cucumber – 1, sliced into rounds
Peanuts – 100 gms, crushed
For the Dressing:
Palm Sugar – 1 tblsp
Lim Juice – 1 tsp
Soya Sauce – 1 tblsp
Seasoning Sauce – 1 tblsp (available in most major supermarkets)
For Garnish:
Celery – 2 tblsp
Coriander Leaves – 1 tblsp
Method:
1. Heat oil in a pan.
2. Add the tofu pieces and fry lightly.
3. Transfer to a salad bowl and keep aside.
4. Soak the rice noodles in hot water for 3 minutes and drain well.
5. Add this to the salad bowl along with all the vegetables.
6. Mix all dressing ingredients and pour it over the salad.
7. Garnish with coriander leaves and celery.
8. Sprinkle crushed peanuts on top.
9. Serve at once.