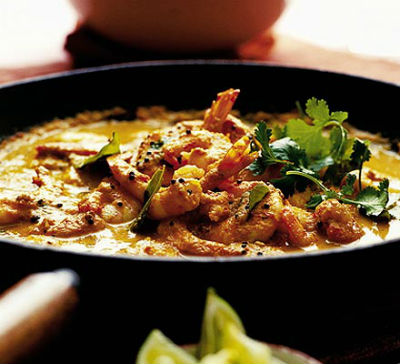 Ingredients:
Prawns – 500 gms, shelled, heads removed and deveined
Oil – 2 tblsp
Mustard Seeds – 2 tsp
Fenugreek Seeds – 1 tsp
Onion – 2, sliced
Green Chillies – 6 to 8, slit
Garlic – 15 cloves, chopped
Ginger – 3 two inch piece, sliced
Tamarind Extract – 3/4 cup
Salt – 1 tsp or as per taste
Thick Coconut Milk – 1 1/2 cups
For Masala Paste:
Coriander Powder – 4 tsp
Red Chilli Powder – 1 tsp
Water – 2 tblsp
Method:
1. Mix the ingredients for masala paste in a small bowl and keep aside.
2. Wash the prawns and keep aside.
2. Heat oil in a pan and fry the mustard seeds till it starts to splutter.
3. Add fenugreek seeds, onions, green chillies, garlic and ginger.
4. Fry till onions turn transparent.
5. Add the masala paste and cook for 3 to 4 minutes.
6. Add the tamarind extract and salt.
7. Mix well and bring to a boil.
8. Add the prawns and cook till prawns are half cooked.
9. Add the coconut milk and mix well.
10. Bring to a boil and remove from heat.
11. Transfer to a serving dish.
12. Serve hot with idiappam or rice.
image credit: BBC Good Food
note: image is for illustration purposes only and not that of the actual recipe.