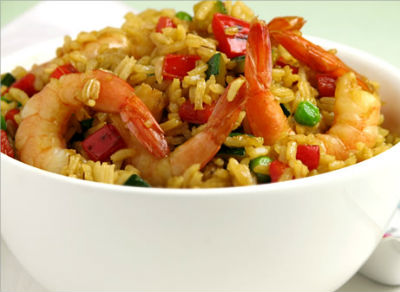 Ingredients:
Shrimps – 450 gms, peeled, cleaned
Oil – 1 tblsp
Spring Onions – 4, thinly sliced
Ginger – 1 tblsp, grated
Green Cabbage – 5 cups, thinly sliced
Sesame Oil – 1 tblsp
Cooked Rice – 4 cups
Soy Sauce – 3 tblsp
Sesame Seeds – 2 tblsp, dry roasted till golden
Method:
1. Heat the oil in a pan over high heat.
2. Add the shrimp, spring onions and ginger.
3. Cook until the shrimps turn pink or for about 2 minutes.
4. Add the cabbage and cook until it begins to soften but still crisp.
5. Transfer to a bowl.
6. Heat the sesame oil in the same pan.
7. Add rice and cook for 3 minutes.
8. Add the shrimp mixture to the pan.
9. Add soy sauce and sesame seeds.
10. Mix well and serve.
note: image is for illustration purposes only and not that of the actual recipe.