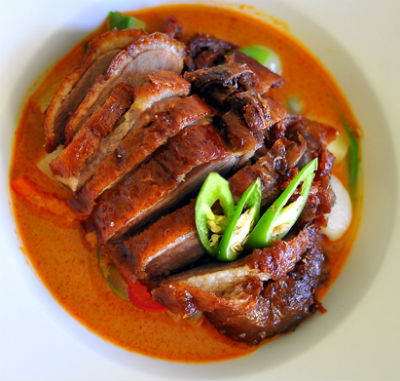 Ingredients:
Duck – 500 gms, cut into bite sized pieces, washed and dried
Oil – 1/4 cup
Onions – 1 to 2, finely sliced
Potato – 1, finely sliced
Small Onions – 2, chopped
Maida – 1/2 tsp
Salt – 1/2 tsp
For spice paste:
Oil – 1/4 tblsp
Dry Red Chillies – 10, seeded
Small Onions – 3, chopped
Garlic – 3 cloves, chopped
Ginger – 1 two inch piece, chopped
Poppy Seeds – 1/2 tsp
Cumin Seeds – 1/4 tsp
Fennel Seeds – 1/4 tsp
White Cardamoms – 1, peeled
Cinnamon – 1 inch piece, broken
Cloves – 1
White Vinegar – 1 tsp
Water – 1/8 cup
Method:
1. To make the masala paste, heat oil in a pan.
2. Fry the red chillies for a minute.
3. Keep aside to cool and grind to a smooth paste with the remaining ingredients.
4. Mix the duck pieces with the ground masala paste and keep aside to marinate for 2 hours.
5. Pressure cook with 1 cup of water for 15 minutes.
6. Strain and reserve the stock.
7. Heat oil in a pan.
8. Add the cooked duck and saute till brown.
9. Remove and keep aside.
10. Add onions and potatoes.
11. Fry till onions turn translucent.
12. Remove the onions and potatoes. Keep aside.
13. Reduce oil to 1 tblsp.
14. Add small onions and fry till brown.
15. Add the maida and mix well.
16. Add the duck pieces along with reserved onions, potatoes and stock.
17. Mix well and bring to a boil.
18. Simmer till potatoes are tender and gravy thickens.
19. Serve hot with rice.
Note: image is for illustration purposes only and not that of the actual recipe.