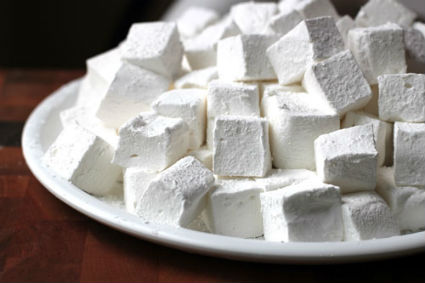 Ingredients:
Sugar – 1 cup
Light Corn Syrup – 4 tsp
Gelatin – 4 tblsp, plain
Vanilla Extract – 3 tsp
Egg Whites – 3
Powdered Sugar as required
Method:
1. Mix gelatin into 1/2 cup of water.
2. Heat sugar, 1/2 cup of water and corn syrup in a small pan over medium heat.
3. Bring to a boil, stirring all the time.
4. Cook till the sugar dissolves.
5. Carefully pour this into the gelatin mixture and mix well.
6. Keep aside for 5 to 7 minutes.
7. Whip the egg whites until soft peaks form.
8. Gently pour the gelatin-sugar mixture into the egg whites.
9. Whip again till soft peaks form.
10. Pour this into a baking dish lined with parchment paper and keep it in the fridge for about 3 hours.
11. Sprinkle powdered sugar on a flat surface.
12. Remove the baking dish from the fridge and flip it over the floured surface.
13. Peel off the parchment paper and cut into cubes.
14. Serve.
image credit: this week for dinner