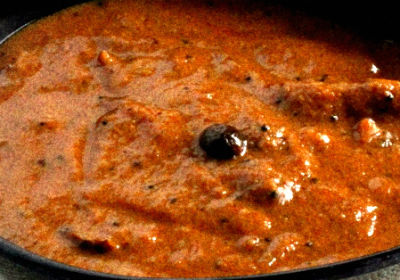 Ingredients:
Tamarind Extract – 1 cup
Sambar Onions – 10
Garlic Cloves – 10
Chettinad Sambar Powder – 2 tsp
Coriander Seeds – 1 tsp, roated and powdered
Red Pumpkin – 1 cup, unpeeled and cut into 1/2 inch cubes
Salt as per taste
Jaggery – 1 tsp, powdered
Rice Flour – 1 tsp
For Tempering:
Oil – 2 tblsp
Mustard Seeds – 1 tsp
Fenugreek Seeds – 1/2 tsp
Saunf – 1/2 tsp
Urad Dal – 1 tsp
Curry Leaves – 1/4 cup
Method:
1. Heat oil for tempering in a large kadhai.
2. Add the tempering ingredients and fry.
3. When the mustard seeds start to splutter, add the sambar onions and garlic.
4. Saute for a minute.
5. Add sambar powder and powdered coriander seeds.
6. Saute for about 30 seconds.
7. Add the pumpkin and saute for a minute.
8. Add the tamarind extract and salt.
9. Bring it to boil.
10. Lower heat, cover pan and simmer for about 15 minutes or till pumpkin is tender.
11. Add jaggery and mix well.
12. Add the rice flour with 1/4 cup of water.
13. Pour this into the kuzhambu and simmer uncovered till it thickens.
14. Serve hot with plain rice.