Erissery is one of the popular and traditional recipes of Kerala. It is an important dish on the Onam Sadhya menu. Mathanga Erissery / Pumpkin Erissery is made using pumpkin and coconut. The dish can be served as a side dish or with steamed rice.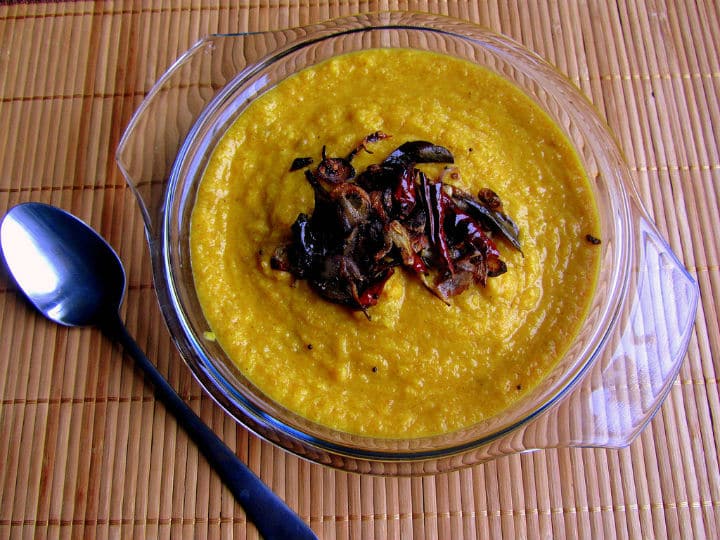 Ingredients:
Pumpkin – 1/4 kg
Green Chillies – 3
Cumin Seeds – 1/2 tsp
Coconut – 1/4 cup, Grated
Turmeric Powder – 1/2 tsp
Salt to Taste
To Temper:
Oil – 1 tblsp
Mustard Seeds – 1/2 tsp
Red Chillies – 2
Fenugreek Seeds – 1/4 tsp
Grated Coconut – 2 tsp
Shallots – 6, Finely Chopped
Method:
Peel the outer skin of the pumpkin and chop them finely.
Add salt, two green chillies, turmeric powder and required water to boil the pumpkin.
when boiled, mash the pumpkin thoroughly.
Grind the remaining green chillies, grated coconut and cumin seeds to a smooth paste.
Add this paste to the boiled pumpkin.
Cook until the gravy is thick.
Heat a pan under medium flame.
Add the mustard seeds, fenugreek seeds, red chillies and temper it.
Add the shallots and fry them.
Add the grated coconut and cook till it turns golden brown.
Add this mixture to the pumpkin gravy and mix well.
Serve with steamed rice.