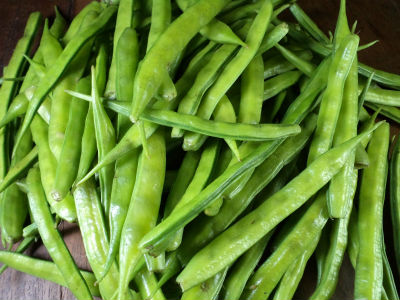 Ingredients:
Kothavarangai (Cluster Beans) – 1/4 kg
Tuvar Dal – 1 cup
Green Chillies – 3
Red Chillies – 2
Curry Leaves – 2 sprigs
Salt to taste
For Seasoning:
Sesame Seed Oil – 3 tblsp
Mustard Seeds – 1 tsp
Urad Dal – 2 tsp
Asafoetida – a pinch
Curry Leaves – 2 sprigs
Method:
1. Soak dal for 2 to 3 hours.
2. Strain all water, add ingredients except the beans.
3. Grind to a rough paste adding very little water if necessary.
4. String and cut beans into very fine pieces.
5. Mix the ground paste with the beans, steam cook in a pressure cooker. Allow to cool.
6. Remove from cooker and loosen the mixture by breaking it into fine pieces with your hands. Ensure that there are no lumps.
7. Heat oil, season ingredients in the order given.
8. Add cooked dal-bean mixture on moderate fire, fry for a while turning now and then till the curry is dry.
9. If necessary, add more oil and fry till crisp.
10. Serve hot.