A delicious and easy to make snack or side dish popular with kids.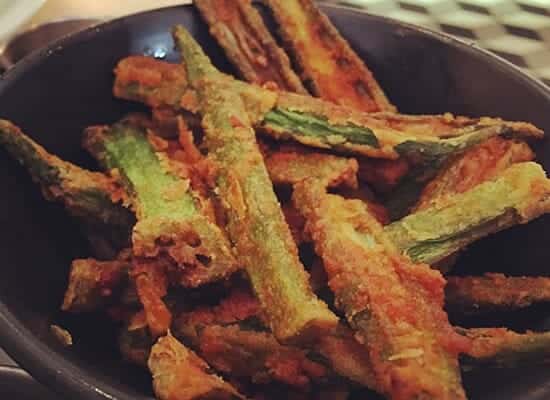 Ingredients:
Vendakkai (Okra/Bhindi) – 250 gms, sliced or chopped
Gram Flour – 1/4 cup
Red Chilli Powder – 3 tsp
Rice Flour – 2 tsp
Maida (Plain Flour) – 2 tsp
Garam Masala Powder – 1/2 tsp
Corn Flour – 1 tsp
Asafoetida Powder – a pinch
Oil as required
Salt as per taste
Method:
1. Combine the bhindi with gram flour, red chilli powder, garam masala powder, maida, rice flour, asafoetida powder and corn flour in a bowl.
2. Add salt and little water.
3. Gently warm 4 tsp of oil and add to the mixture.
4. Mix well until the okras are well blended with the flours.
5. Heat oil for deep frying in a pan.
6. Drop small portions of the okra mixture and fry till crisp and golden brown.
7. Remove and drain excess oil.
8. Serve as a snack or as a side dish.