A smooth and delicious spinach soup.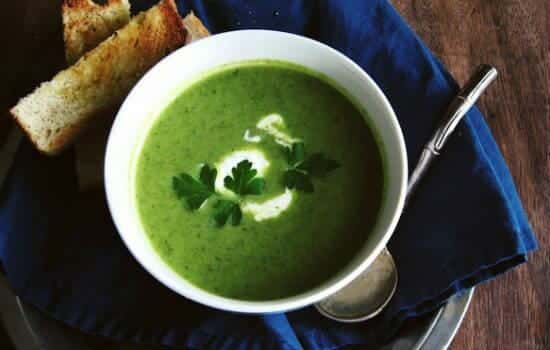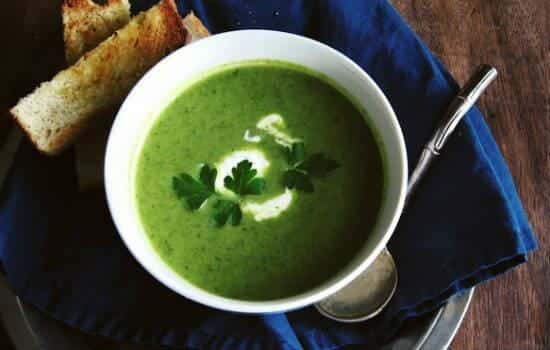 Ingredients:
Spinach – 1 bunch, washed, stemmed, chopped
Maida (Plain Flour) – 1 tblsp
Butter – 1 tblsp
Black Cardamoms – 1 to 2
Ginger – 1 inch piece, minced
Garlic – 1 clove, minced
Onion – 1, small, finely chopped
Black Peppercorns – 2
Bay Leaves – 2
Cumin Powder – 1/2 tsp
Salt as per taste
White Pepper Powder as per taste
Thick Cream to garnish (optional)
Bread Slices – 1 or 2, chopped into squares and fried
Method:
1. Blanch the spinach leaves in hot water for a minute or two.
2. Drain and refresh under cold water.
3. Drain again and blend well to a smooth puree.
4. Heat butter in a nonstick pan over medium flame.
5. Add the cardamoms and fry for 10 seconds.
6. Add the maida and saute for a minute.
7. Add the onions, ginger, garlic and saute for 2 to 4 minutes.
8. Add the peppercorns, salt, pepper powder, cumin powder and bay leaves.
9. Pour 500 ml of water and stir well.
10. Gently bring to a boil and simmer for 5 minutes, stirring from time to time.
11. Strain this liquid into another pan.
12. Discard the solids.
13. Add the spinach puree the pan.
14. Simmer on medium flame for 3 to 5 minutes.
15. Remove from flame and pour into individual serving bowls.
16. Add a dollop of cream and couple of fried bread pieces.
17. Serve hot.