Aloo Tikki Burger is an Indo-Western popular snack and sometimes a meal in itself. Tikki is an Indian subcontinent snack also known as croquettes in English. Aloo Tikki is a very popular version followed by Paneer and Chicken Tikka.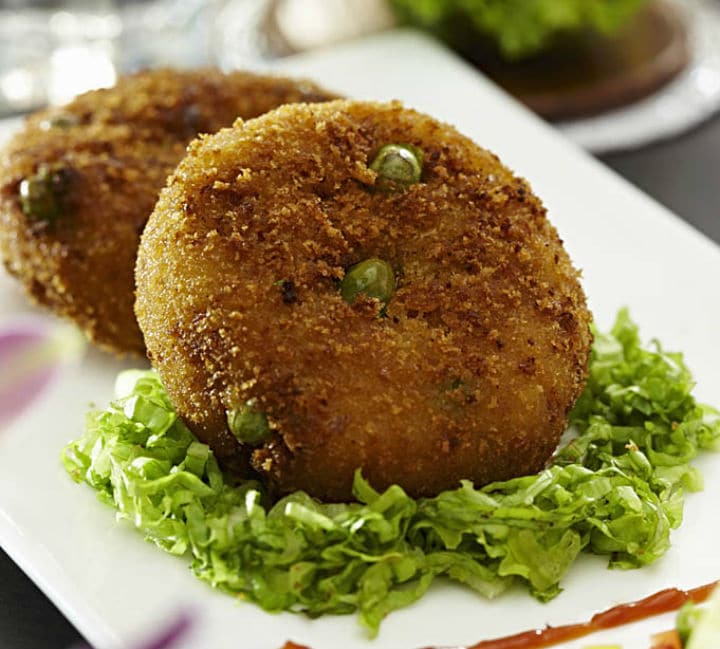 Aloo Tikki is a very popular street food that is made from potatoes, spices and coriander and is served fresh with spicy coriander, mint and sweet chutney. With the popularity of the Western food gaining momentum, the humble tikki received an uplift by combining it with the burger, thus, giving birth to Aloo Tikki Burger. The traditional street or dhaba style version of making the tikki involves mixing mashed potatoes, along with green peas, spices and coriander leaves and deep fried to get that crisp golden crust.
Aloo Tikki Burger is quite easy to make at home and involves everyday ingredients. If you can't lay your hands on the burger buns, they can easily be substituted with bread slices and made into sandwiches. Slather the bun with Mayo and combine the Aloo Tikki with fresh lettuce leaves, slices of tomatoes and onions. Voila, the Aloo Tikki Burger is ready.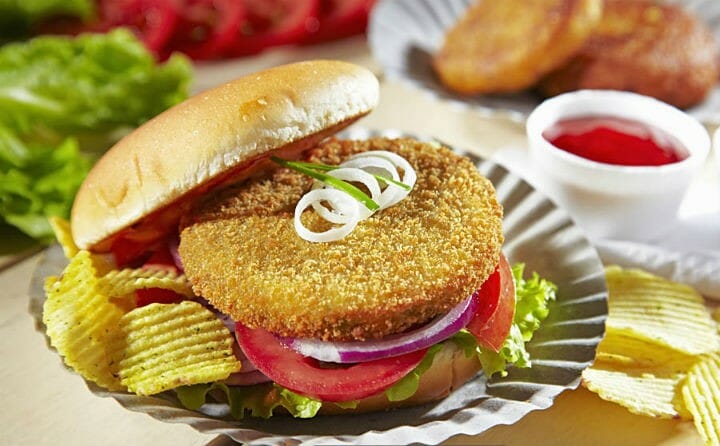 We love to hear from you. Do share pictures of your recipes and let us know what versions your family likes.
Aloo Tikki Burger

Recipe

Crispy golden patties, generously spiced and sandwiched between soft, toasted burger buns. A fun meal with kids and picnics.

Ingredients for
Aloo Tikki Burger
1

cup

Mayonnaise

4

tblsp

Tomato Ketchup

2

tblsp

Butter

4

Burger Bun

1/2

cup

Green Peas

1

tsp

Turmeric Powder

1

tsp

Coriander Powder

1/2

tsp

Pepper Powder

1

tsp

Red Chilli Powder

1

tsp

Cumin Powder

1

tsp

Garam Masala Powder

1/2

tsp

Aamchur Powder

5

Potatoes

Boiled, Mashed

1/2

cup

Poha

salt

as per the taste

3

Slices

Tomatoes

3

slices

Onions

1

cup

Bread Crumbs

1

cup

All Purpose Flour

1/2

cup

Corn Flour

Oil

Deep frying
How to make
Aloo Tikki Burger
To a cup, add mayonnaise, tomato ketchup and mix well.


Soak the poha in water and squeeze the excess water . keep it aside.

Heat a flat kadhai under medium flame with butter.

Add the green peas, turmeric powder, coriander powder, pepper powder, red chilli powder, cumin powder, garam masala, aamchur powder and mix thoroughly.

Cook for a minute and add the mashed potatoes.

Mix well with any lumps. Add the poha and salt to taste.

Stir and combine well, if needed mash them with a potato masher.

Remove from flame and cool down.

Hold them to the shape of cylinder and freeze it for an hour.

Remove and cut them into the shape of cutlet.

Take a bowl and add flour, corn flour, salt, pepper powder and mix well.

Add little water to make a paste.

Coat the potato cutlet in corn flour and remove excess flour.

Then coat them in the flour paste, roll them over the bread crumbs. This tikki can be stored in fridge for a month.

Heat oil in another kadhai and deep fry the tikkis on both sides until golden brown.

Heat a tawa with butter, Cut the burger bun into half with out diving them into two pieces and lightly toast the open sides on the tawa.

Remove from flame and apply the mayonnaise paste over it

Place a tikki on top with tomato slice and onion slice.

Close the bun and gently press on top.Serve with french fries.