Mangalore Idli, is a delicacy from the rich food land of Udupi, Mangalore. Udupi, famous for its Krishna Temple, has for long been notable for its lip smacking cuisine. This region specializes in "saatvik" style of cooking that excludes lots of underground vegetables, spices and meat. You can check out a couple of our Udupi recipes here.
Like any other idli, most of the ingredients remain the same for Mangalore Idli too. However, what sets it apart is the way it is made. The locals use a leaf from the Palm tree or Pandan leaf to make a mould for the idli which is cylindrical in shape. The art of making this mould is quite exquisite, but slowly losing its prominence due to the time consuming factor. Check out this video here to see how the Pandan leaf idli mould is made. Due to the shape of this idli, it is also commonly called Moode in Kannada/ Tulu. The leaf is what imparts the idlis its special flavour, aroma and shape. Practically speaking, using a leaf as a mould is a great idea as it reduces the vessels for washing and the leaves can just be thrown away.
If you don't have a Pandan leaf on hand, we'll make do with what's best and easily available – banana leaf or jackfruit leaves can be used as substitutes. Serve this with any spicy gravy and you are good to go.
Go on, try out our recipe for making Mangalore Idli or "Moode" at home and let us know how it turned out!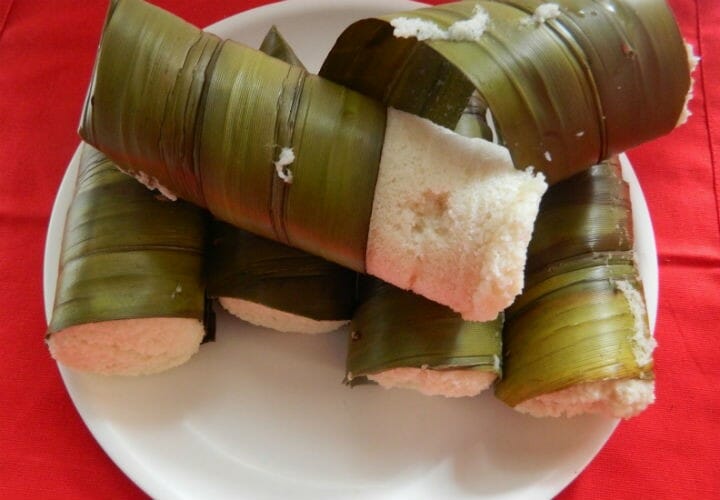 Ingredients:
Idli Rice – 1 1/2 cups
Raw Rice – 1 cup
Urad Dhal – 1 cup
Fenugreek Seeds – 1 tsp
Cumin Seeds – 1 tsp
Roasted Cashews – 2 tsp
Asafoetida – A pinch
Curd – 1/2 cup
Optional
Pepper Powder – 1 tsp
Green Chillies – 3, Finely Chopped
Ginger – 2 tsp, Peeled, grated
Curry Leaves – Few
Sukku Powder – 1/2 tsp
Gingelly Oil – 1/4 tsp
Salt to Taste
Method:
Soak the raw rice and idli rice together for 3 hours.
In another bowl, soak the urad dhal and fenugreek seeds together for an hour.
Grind them separately in grinder and mix together. The batter should be thick.
Add salt and allow it to ferment it for 8 hours.
Later add the pepper powder, cumin powder, sukku powder, cashews, green chillies, curry leaves, grated ginger, asafoetida to the batter and mix well.
Add the gingelly oil and curd and mix well.
Allow the batter to rest for 1/2 hour.
Heat an idli steamer, pour the batter in small tumblers lined with banana or jackfruit leaves and steam cook it for 10 to 15 minutes. Best to use Pandan Leaf moulds as indicated in the description above.
Remove from flame and serve hot with any spicy gravy.
Image Credit