A popular street food snack from Mumbai, now popular throughout India and among the Indians living overseas.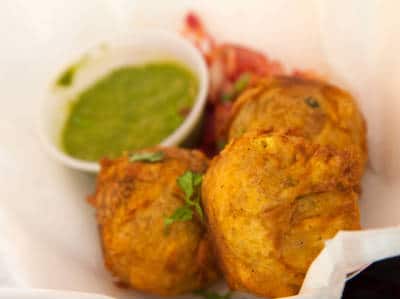 Ingredients:
Besan (Chickpea) Flour – 500 gms
Potatoes – 8 to 10, boiled, peeled, mashed
Green Chillies – 4, finely chopped
Onions – 4, finely chopped
Mustard Seeds – 2 tsp
Ginger – 2 tsp, finely chopped
Turmeric Powder – 1 tsp
Juice of 1 Lime
Coriander Leaves – 4 tblsp, chopped
Curry Leaves – handful, chopped
Sunflower Oil – 3 to 4 tblsp
Vegetable Oil for frying
Salt as per taste
Method:
1. Add enough water to the flour and beat well to make a smooth batter.
2. Add salt and mix well.
3. Cover with a lid and keep aside for 30 to 60 minutes.
4. Combine coriander leaves, potatoes and salt in a bowl.
5. Heat sunflower oil in a pan over medium flame.
5. Fry the mustard seeds and curry leaves for 30 seconds.
6. Add ginger and green chillies.
7. After a minute, add the onions and fry until onions are soft.
8. Add lime juice and turmeric powder.
9. Stir well and transfer this to the potato mixture.
10. Mix well until no lumps remain.
11. Shape the mixture into small-medium sized balls.
12. Heat oil in a deep frying pan over medium flame.
13. Dip the potato balls in the batter (prepared at step #1) and gently add them to the hot oil.
14. Fry, in batches, for 30 seconds or until the potato balls turn light brown.
15. Remove and drain excess oil.
16. Serve hot with mint chutney or ketchup.
Subscribe to our Newsletter
Receive the latest recipes & kitchen tips !