Phirni (or Firni) is a very popular and delicious North Indian dessert made with ground rice and milk during festivals like Diwali, Holi and also during other festive occasions.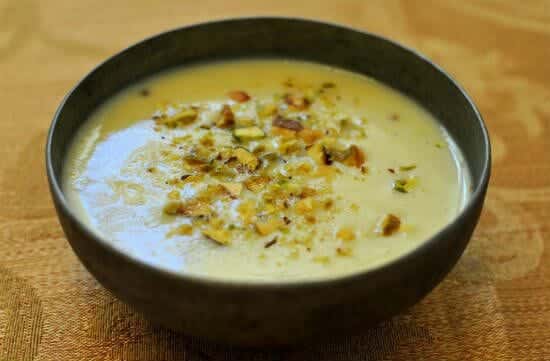 Ingredients:
Basmati Rice – 50 gms, soaked, drained well
Milk – 400 ml
Unsweetened Khoya – 50 gms
Almonds – 3 tblsp, blanched, peeled, sliced
Cashew Nuts – 3 tblsp
Pistachios – 3 tblsp, sliced
Sugar – 200 gms
Cashew Nuts – 1 tblsp
Raisins – 1 tblsp
Ghee – 50 ml
To Garnish:
Saffront Strands – little
Cashew Nuts, Almonds and Pistachios – few, chopped
Method:
1. Grind the almonds and pistachios to a smooth paste.
2. Heat a little ghee in a pan and fry the rice until golden. Then grind to a fine powder.
3. Add the cashew nuts and raisins.
4. Fry for a minute and switch off the flame.
5. Heat milk in a pan and bring to a boil.
6. Add the khoya, ground almond paste and sugar.
7. Stir well and simmer for a few minutes.
8. Add the rice flour and mix well.
9. Remove from flame after a minute or two.
10. Garnish with saffron, cashew nuts, pistachios and almonds.
10. Serve.