When hunger pangs strike, you need something delicious and quick to appease and satiate the raging taste buds. What better than a loaded roll or wrap that you can customize your way – depending whatever you have available in the kitchen any moment. One of the simplest and easiest on-the-go snacks, wraps and rolls find their presence on the global food map – various cultures have most willingly experimented with and created their very own versions of wraps and rolls recipes.
Here we share the difference between wraps and rolls and 7 easy recipes for you to get going!
Know your wraps and rolls
Roll: A loaf of bread, often small and round, eaten plain or with a dash of butter, it is also frequently served as a meal accompaniment. A roll can be served and consumed whole or cut diagonally and filled or dressed with your special ingredients as filling between the two halves. Commonly and regularly used for making sandwiches, it is confused quite often with a mini baguette.
Wraps: Wraps are nothing but the typical flat breads, like lavash, wheat-flour tortillas or pita. The filling usually consists of poultry, cold sliced meat, or fish accompanied by shredded and sliced lettuce, diced tomato, sauteed mushrooms, grilled onions, bacon, cheese, and some sauce, such as mustard, mayonnaise or honey.
Now that you know your wraps from rolls, it's time to put on your aprons and chef's hat and  invade your kitchen!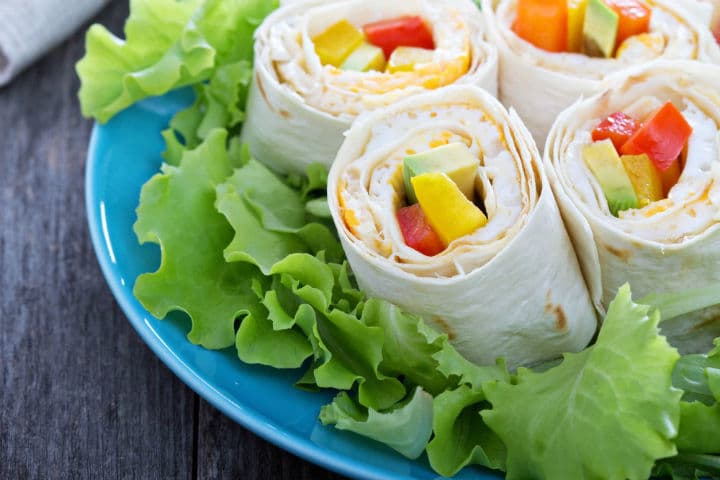 Spring – rolls:

A famous starter snack from the Indo Chinese cuisine. Spring rolls are a large assortment of packed, rolled starters or appetizers.
You can opt for ready to use spring roll wrappers. The filling can be easily made with your favorite mix of veggies and/or choice of meat stir fried with oriental sauces.
Juicy inside and crispy on the outside, make sure you indulge into it while it's still hot and crunchy. Try dunking the rolls into some sauces for those extra flavors!

Burritos

A classic Mexican delicacy, the Burrito is a warm, soft tortilla wrapped to enclose a variety of juicy fillings including a mix of veggies, rice, chicken or meat.
Cook the veggies till tender and /or meat to your liking with your traditional spices or sauces. Allow it cool down for a bit. Spoon this mixture uniformly down center of the warmed tortilla. Roll it up and wolf it down while it's still warm!

Falafel With Pita (Bread)

An all-time preferred Lebanese dish, Falafel can be classified as a lavish snack or meal depending on when you have it!
Prepare a course mixture consisting of chickpeas, traditional herbs and spices mixed with a little water. Add some baking powder and mix well to form a thick paste. Make similar sized round balls and deep fry these till they turn golden brown evenly.
Fill the pita bread (split in the middle) with a layer of falafel, some chutney (of your choice) or sour cream, some lettuce and some chopped onions before serving.Tip: Serve as soon as you assemble it, since it gets soggy soaking in the dressing if left for too long.

Veg Frankie

A trendy and inexpensive version of the hi-fi wraps and rolls! The roti (maida and/or wheat) is pre-cooked and kept prepared.
It is then stuffed with fillings varying from a basic onion and potato mixture, to more innovative and modern Jain or Chinese versions.
The tangy and flavorful taste of chaat masala and spicy chillies in vinegar is mouth watering!

Mixed sprouts roll / wrap:

A healthy choice for the diet conscious individual. Sprouts could be monotonous or extremely interesting subject to your usage of them!
Try this innovative and modern recipe, by spicing up the sprouts with a dash of ginger-garlic paste and some chilli powder. You could also try fresh mint with low-fat curd dressing to avoid piling on the extra calories. Go the extra mile for a protein-rich punch by wrapping them in soya rotis.

Veg / Non-veg Tacos

A traditional Mexican dish comprising of a wheat or corn tortilla rolled or folded around a filling.
It can be filled with a variety of fillings including meat, seafood, vegetables and cheese. It is often accompanied by garnishes.

Veg Kathi roll:

A street-food recipe originating from Kolkata, it is a skewer-roasted kebab (original form) wrapped in paratha bread.
Green chutney and yogurt spread on the paratha (or roti), topped with capsicum masala, sautéed tomato, onion, and paneer (cottage cheese) rolled and served hot.
A fast fuss free snack that is satisfying, tasty and filling. It's perfect to eat when on the go.
Whether you're looking for a quick and easy lunchbox recipe or for something to eradicate those mid-meal food cravings, our recipes are always handy, quick and extremely delicious.