Tantalize your taste buds with the burst of flavours in Coriander Chicken Wings. Juicy, crispy, and infused with fragrant coriander, these wings are perfect for any occasion.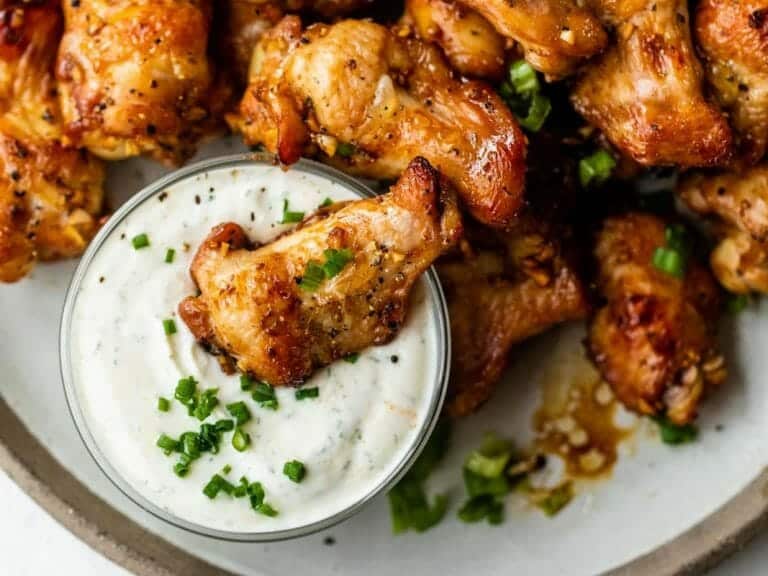 Get ready to tantalize your taste buds with the delectable flavours of Coriander Chicken Wings. These wings perfectly combine juicy chicken, aromatic coriander, and an irresistible blend of spices. The fragrant coriander marinade infuses the chicken wings with fresh and herbaceous notes. At the same time, the cooking process ensures a delightful crispiness that will leave you craving for more.
The secret to the irresistible appeal of Coriander Chicken Wings lies in the harmonious balance of flavours. The vibrant green coriander leaves lend a refreshing and rich taste, complemented by the subtle heat from spices like cumin, paprika, and chilli powder. As the wings cook, they develop a golden-brown crust that locks in the succulent juices, resulting in a mouthwatering texture that is simply addictive.
Coriander Chicken Wings are incredibly versatile and can be enjoyed as an appetizer, a finger-licking snack, or a crowd-pleasing main course. Whether you're hosting a casual get-together, a game night, or simply craving a flavorful chicken dish, these wings will surely impress.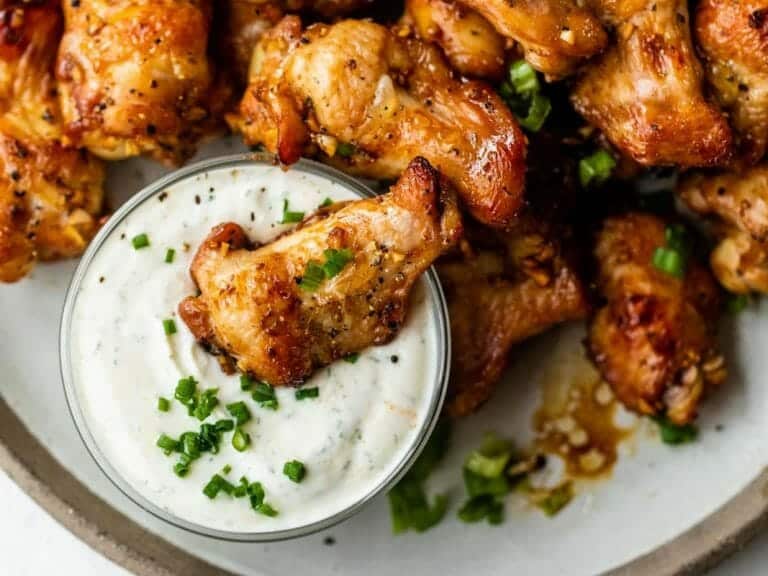 Coriander Chicken Wings

Recipe

Tantalize your taste buds with the burst of flavours in Coriander Chicken Wings. Juicy, crispy, and infused with fragrant coriander, these wings are perfect for any occasion.
Ingredients for
Coriander Chicken Wings
8 to 10

Chicken Wings

3

tsp

Olive Oil

3

tbsp

Coriander Seeds

as required

Sea Salt

as per taste

Black Pepper Powder
Optional
1 to 2

tsp

Paprika or Red Chilli Powder

1

tsp

Cumin Powder
How to make
Coriander Chicken Wings
Toast the coriander seeds and grind coarsely.

Mix this with the pepper powder and salt. Add the paprika or red chilli powder and cumin powder if using.

Rub this all over the chicken wings and place it on a wire rack.

Drizzle olive oil and keep it in a preheated oven at 200C for 20 minutes or until golden brown.

When the wings are cooked, remove from the oven and cool.

Serve with a fresh salad and dipping sauce of choice.
Frequently Asked Questions (FAQ) about Coriander Chicken Wings
Can I use dried coriander instead of fresh coriander for the marinade?
Certainly! While fresh coriander leaves provide a vibrant and aromatic flavour to the chicken wings, you can substitute dried coriander if new is unavailable. Dried coriander seeds have a slightly different flavour profile but still offer a delightfully earthy and citrusy taste. Crush the seeds to release their fragrance and mix them with other spices to create a flavorful marinade. Remember that the intensity of the coriander flavour may vary between fresh and dried versions, so adjust the quantity accordingly to suit your preference.
Can I bake the chicken wings instead of frying them?
Absolutely! If you prefer a healthier alternative to frying, you can bake the coriander chicken wings to achieve similar crispiness. Preheat your oven to the recommended temperature and place the marinated wings on a baking sheet lined with parchment paper. Bake them until they are cooked through and golden brown, flipping them halfway through for even browning. While baking may result in a slightly different texture than frying, you can still enjoy the aromatic flavours of the coriander marinade. Experiment with other baking times and temperatures to achieve your desired level of crispiness.
Can I make these wings in an air fryer?
Definitely! Coriander chicken wings can be prepared in an air fryer for healthier cooking without compromising flavour. Preheat your air fryer and lightly coat the wings with oil to help them achieve a crispy exterior. Place the wings in the air fryer basket and cook them at the recommended temperature, flipping them halfway through for even cooking. The circulating hot air in the air fryer will help create a deliciously crispy texture while preserving the flavours of the coriander marinade. Keep an eye on the wings to prevent them from overcooking, and adjust the cooking time based on your air fryer's instructions.
Can I use boneless chicken for this recipe?
Absolutely! While traditional chicken wings are made with bone-in wings so you can adapt the recipe to boneless chicken pieces. Cut boneless chicken breasts or thighs into bite-sized pieces or strips and marinate them in the coriander marinade. Adjust the cooking time accordingly, as the boneless chicken cooks faster than bone-in pieces. Whether you choose bone-in or boneless chicken, the coriander marinade will infuse the meat with its delightful flavours, resulting in a mouthwatering dish.
What suitable dips or sauces to serve with coriander chicken wings?
Coriander chicken wings pair well with various dips and sauces that complement their flavours. For a refreshing and tangy option, serve the wings with mint yoghurt dip or tzatziki sauce. The coolness of the dip provides a nice contrast to the spiciness of the wings. If you prefer a bit of heat, a spicy chilli sauce or sriracha mayo can add an extra kick to each bite. Additionally, a sweet and tangy barbecue sauce or a zesty lemon-garlic aioli can enhance the flavours of the coriander marinade. Feel free to explore dipping sauces and find your perfect match for these flavorful chicken wings.