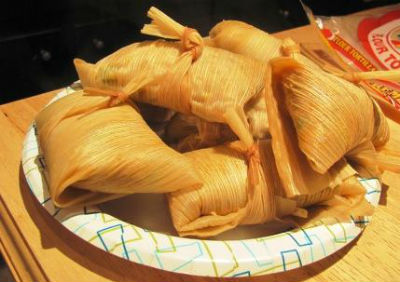 Ingredients:
Basmati Rice – 1 cup
Water – 1 cup
Coconut Milk – 200 ml
Chicken Breast – 1, small, skinless, boneless, cooked, sliced
Peanuts – 3 to 4 tblsp, roasted
Egg – 1, hard-boiled, sliced
Water – 5 cups
Salt – 1/2 tsp
Black Pepper Powder – a pinch
Brown Sugar – 1/2 tsp
Banana Leaves – few, cut into squares, soften over steam
Edible Orange Food Colour – 1/2 tsp, mixed with 1/4 cup water
Method:
1. Heat a pan over medium flame.
2. Add the rice and fry until lightly browned.
3. Remove and grind to a fine powder.
4. Transfer to a pan and pour 1 cup of water, coconut milk, sugar, salt and pepper powder.
5. Simmer over low flame until it starts to thicken.
6. In a separate pan mix the chicken pieces and food colour water.
7. Cook until the chicken pieces turn orange.
8. Drain and keep aside.
9. Place the banana leaf on a clean surface.
10. Spoon about 1 tblsp of the rice mixture, a chicken piece, 1/2 to 1 tsp of peanuts and an egg slice on top.
11. Fold the banana leaf over the mixture to form a square packet.
12. Place this inside another banana leaf and fold the same way.
13. Secure with a twine and repeat until all ingredients are used up.
14. Pour 5 cups of water into a pot and bring to a boil.
15. Drop the packets into the boiling water and cook over high flame for 20 to 30 minutes.
16. Remove and drain excess water.
17. Cool to room temperature and serve.
image credit: bethcooks.com