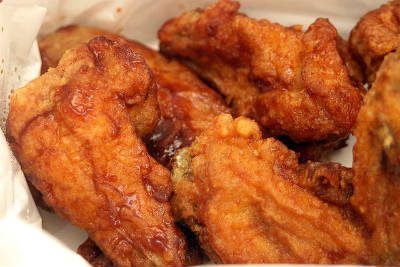 Ingredients:
Chicken Wings – 12, pricked with a fork
Eggs – 2, slightly beaten
Corn Flour – 2 cups
Ginger Garlic Paste – 3 tsp
Salt as per taste
Oil for deep frying
Method:
1. Mix the chicken wings, beaten eggs, corn flour, ginger garlic paste and salt in a bowl.
2. Add water and mix well ensuring the chicken pieces are well coated.
3. Keep aside for an hour or two.
4. Heat oil in a deep pan.
5. Deep fry the chicken wings until crisp and golden brown.
6. Remove and drain excess oil.
7. Serve.