Bhature (Chola Poori) is a very popular dish served anytime across India. Bhature is different from the regular poori in terms of the its size and the ingredients used. A typical poori at home is made using regular wheat flour, salt and water. But Bhature is made using Maida, ghee, curd and baking soda. The sheer size and puffed up look is what makes is endearing to everyone, especially children. Not surprisingly, this delicious dish is once again originated from the rich food lands of Punjab. Unlike a regular poori, the Bhature is served only with Channa Chole (a spicy dish made from chickpeas), a few rings of raw onion and a sliver of lemon and maybe a knob of butter (if you are truly eating it in Punjab).
Served as a breakfast item in some places, it is a popular lunch or dinner option too. Typically served with Channa Chole (Punjabi Chole Masala), it is simple and easy to make.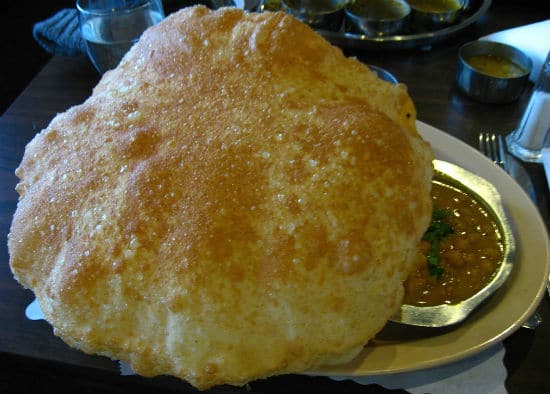 Ingredients:
Maida (Plain Flour) – 1 cup
Milk – 1/4 cup
Curd – 2 tblsp
Cooking Soda – a pinch
Ghee – 2 tsp
Salt as per taste
Oil for frying
Method:
Combine the flour, milk, curd, ghee, salt and cooking soda in a bowl.
Pour enough water and mix well to a pliable consistency.
Keep aside for 15 to 30 minutes.
Pinch small balls of the dough and roll them out into a big poori.
Heat oil in a deep frying pan over medium flame.
Deep fry the prepared pooris until light golden brown and remove.
Drain excess oil and serve hot with chana chole (chole bhature).