We all live in a super connected world today. Thanks to the internet and other media, most of us are exposed to a variety of information in the planet. Health is one of those. Many of us are now aware of the benefit of balanced diets, eating healthy, staying fit and so on. But, the catch is – How many of us follow it? Excuses abound aplenty – no time, too much effort, etc.
Fruits and vegetables form an extremely essential part of our diet. A juice is a good substitute. Daily dose of fruit or vegetable juice is also very effective in maintaining good health. Many studies say that the nutrients in juices are easily absorbed by our body. Here are some things and methods to consider if you are seriously contemplating juice as part of your regular diet.
Using a Pulp/ blade juicer– These juicers are also called Centrifugal juicers and is the most common equipment used in juice shops or our homes. While the output may be good, there is a downside. These traditional juicers use high speed blades to cut the fruit and crush the pulp which generates a lot of heat and destroys a good amount of nutritive value of the fruit or vegetable.
Using a Cold Pressed Juicer– This style of juicing involves the application of high pressure in order to extract juice. This style of juicing has received a lot of attention lately as the amount of juice extracted is higher in volume, helps retain the nutritive value to a considerable extent as no heat is involved and there is no loss of fibres. Freshly Cold-Pressed juices can be stored for 2 – 3 days in a refrigerator.
This week when I received the KENT Cold Pressed Slow Juicer for review, I was quite excited to try it out. Having heard the benefits of cold pressed juices, I was very interested to know if they lived up to their name.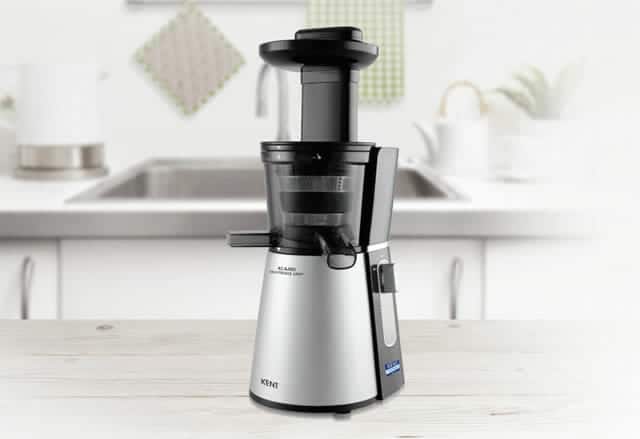 Equipment Set-up – the package arrived with most of the parts disassembled. Setting up is easy once you spend a few minutes going through the manual.
Wide Inlet – The inlet is designed to allow even bigger pieces of fruit or vegetable. It reduces the extra effort that goes into chopping them into smaller pieces. Hard veggies will need to be chopped into medium pieces. I tried to juice carrots and it got stuck. Had to cut them into medium size pieces.
Slow speed squeezing – The slow speed and high pressure squeezing ensures high juice extract from the same quantity of fruits or vegetables. The natural fibers are also not lost in this process, thus enhancing the taste and nutritive value of the juice. The juice also seems thicker.
Dual Filters – The juicer also comes with 2 meshes that is suitable for all sorts of hard and soft veggies and fruits.
Residue collector – The equipment has a separate box that collects the residual pulp after extraction.
Low Noise Output: The slow speed motor has a very low noise output when compared to traditional juicers. In fact, there was barely much noise when I tried making tomato juice.
Make juice from anything – This juicer can be used to extract juices even from leaves like mint, coriander, etc. Almond and walnuts milkshakes are now just a juicer away.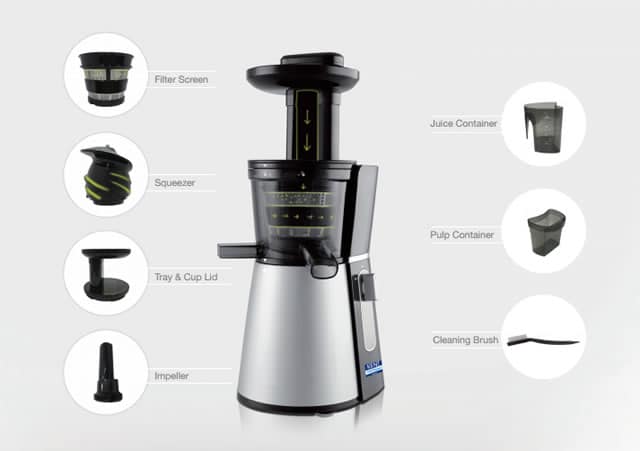 This said, there is a downsides to the cleaning process. Even though the product comes with a cleaning brush, the entire process of cleaning is time consuming. The mesh has to be cleaned immediately, else the pulp may dry out and cleaning would be tough.
Hop on to the healthy bandwagon with KENT Cold Pressed Juicer.
---
Disclaimer: All opinions are of our own and not influenced in any way.