Keerai Masiyal is a popular South Indian (especially Tamil Nadu) dish and served with hot rice. Manathakkali Keerai (or known as Black Nightshade in English and Makoi in Hindi) is rich in nutrients with lots of medicinal properties. Consumption of manathakkali keerai improves digestion, treats constipation, ulcers, headache, skin infections and is good for pregnant women. Its leaves are rarely used in Indian cuisines but we see it in a couple of recipes in the traditional Tamil cuisines.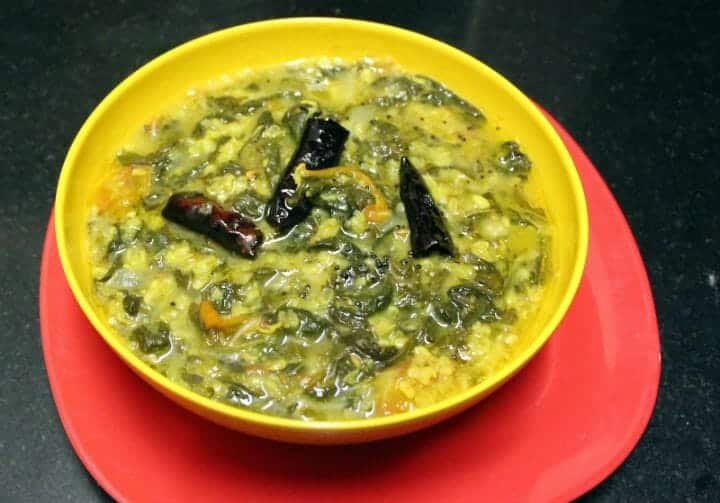 Manathakkali Keerai Paruppu Masiyal is a soupy curry made from the leaves. You can serve it with hot steamed rice or rotis and it is easy to cook as well.
People who suffer from mouth ulcer chew these leaves as it provides instant relief. It improves digestion, reduces headache and cures skin diseases as well. Moreover, it is also deemed to be healthy for pregnant women.
Ingredients such as moong dal, tomatoes, red chilies (dry), garlic, mustard seeds, etc. play an important role in this recipe. The Keerai is finely chopped and mashed in order to prepare a smooth curry which tastes wonderful and soupy.
Manathakkali Keerai Paruppu Masiyal can be also eaten as a side dish along with other traditional South Indian recipes such as rasam or hot curry. It is neither too spicy nor too plain but tastes rich and delightful at the same time. Some people mix it with ghee and rice as it blends well with both of them.
Use only the leaves and avoid the stem at all times as it is bitter to taste and will spoil the taste of your dish. Keerai is a bit hard to digest and therefore people who do not have a powerful digestive system must avoid this dish for dinners.
Do not forget to chop the Keerai leaves finely so that they get smoothly blended with the spices. Keerai leaves also provide relief from stomach irritation, muscle spasms, etc. and is also believed to be useful in handling nervousness.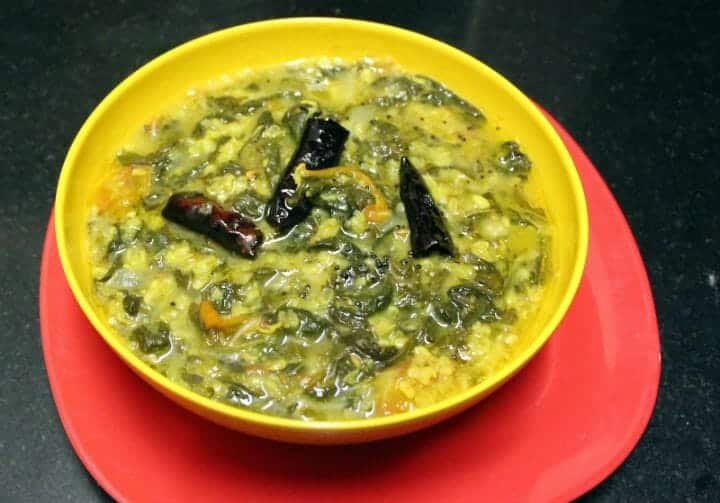 Print Recipe
Manathakkali Keerai Paruppu Masiyal Recipe
Manathakkali Keerai Paruppu Masiyal is a soupy curry made from the Manathakkali Keerai leaves. It can be served with hot steamed rice or rotis.
Ingredients for
Manathakkali Keerai Paruppu Masiyal Recipe
2

Cups

Manathakkali Keerai

100

g

Moong Dal

4

Tomatoes

Ripe, red

4

cloves

Garlic

4

Dry Red Chillies

1

tsp

Mustard Seeds

Salt

As per taste

Oil

As required
How to make
Manathakkali Keerai Paruppu Masiyal Recipe
Clean, wash and finely chop the keerai.

Pressure cook the keerai, tomatoes, garlic and moong dal until 3 to 5 whistles, adding enough water.

When the pressure has reduced, open the lid.

Add salt as per taste and mash well.

Heat the oil in a frying pan.

Fry the red chillies and mustard seeds.

Pour this over the masiyal and stir once.

Serve with hot rice.
Subscribe to our Newsletter
Receive the latest recipes & kitchen tips !