A popular Chinese-Hong Kong dish, the Walnut Shrimp is easy to make and is delicious with hot, steamed rice.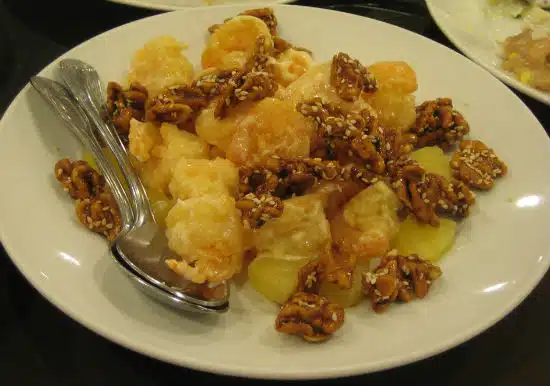 Ingredients:
Shrimps – 125 gms, shelled, deveined
Egg White – 1/2 tblsp
Cornstarch – 1 1/2 tsp
Baking Soda – a pinch
Garlic Salt – a pinch
Oil as required
Candied Walnuts – 2 tblsp (available in supermarkets or speciality stores)
For the dressing:
Condensed Milk – 2 tblsp, sweetened
Plain Mayonnaise – 2 tblsp
Lemon Juice – 1/2 tsp
Lime Juice – 1/2 tsp
Method:
1. Mix the egg white, cornstarch, baking soda and garlic salt in a bowl.
2. Add 1/4 tsp oil and mix to a smooth paste.
3. Add the shrimps and mix well.
4. Mix the dressing ingredients in a bowl and blend until smooth.
5. Heat oil in a deep frying pan over medium flame.
6. Fry the shrimps until light brown (4 to 5 minutes) and remove.
7. Drain excess oil.
8. Add the shrimps to the dressing and mix well until evenly coated.
9. Transfer to a serving bowl.
10. Garnish with candied walnuts.
10. Serve with hot rice.